Santa Barbara has a plethora of bands playing our clubs and bars to keep music lovers aurally satisfied year-round. But in between hometown shows, many bands head out to cities, states, and countries to dazzle others with their playing chops. Prepping for a tour requires a lot of planning, but even so there are myriad things that can go awry. Spencer the Gardener, Soul Majestic, and S.F.-by-way-of-I.V. band Poor Man's Whiskey have all experienced the foul-ups and miscalculations that can turn a far-flung gig into a story of mishap. Read on for accounts of a Canadian border-crossing snafu, a purple bus stuck in the redwoods, and a Mexican concert with no bass-drum pedal.
Spencer the Gardener
In the mid-1990s, before cell phones and the efficiency of finding anything and everything at a moment's notice, we were slated to play the finale of a two-day bike race/fundraiser in Ensenada, Mexico. We were put up in a hotel for Saturday/Sunday with the show being held in a big soccer field just outside of town. We were the only band playing, and we were hosted by two radio stations ​— ​one from San Diego and one from Mexicali. So it was just Spencer the Gardener and the radio stations' deejays. We arrived in Ensenada late Saturday afternoon, checked into the hotel, and then marched out into a crazy Mexican night.
The next day, we paraded around Ensenada, had a late breakfast, and then made our way to the show. The sound company was from Mexicali, and we were all joking around and slowly setting up, telling various stories and histories when our drummer said, "I think I forgot my bass-drum pedal." He was kinda laughing; we figured he'd find it somewhere. A couple of minutes later he said, "Guys, I can't find it." It was Sunday afternoon, and all the music stores were closed. One of the sound guys said, "I have a friend," and off he went on a mad dash to try and find a bass-drum pedal. He came back empty-handed. In the meantime, another sound guy said, "I have an idea." He set up a keyboard and simulated the sound of a bass-drum pedal. By now we are about an hour away from start time, and a crowd was at the gates ready to come in. So a guy named Alejandro from Mexicali said, "You count four; I'll come in and just play the bass pedal part ​— ​I'll keep it simple, like a heartbeat."
So that is how we did the show. It sounded a bit like those old Stars on 45 records where everything sounded like a disco remix, and after a while if that thundering keyboard bass drum wasn't there, you were missing something. You could even feel the crowd pulsing, "like a heartbeat" as Alejandro said. Needless to say, I think that led to a three-year question of "Are you sure you have everything?" —Spencer Barnitz, vocals and guitar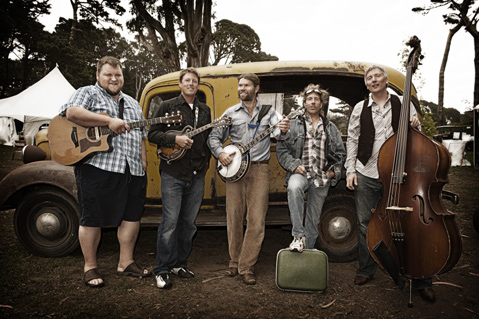 Jay Blakesberg