Hi,
My apologies ahead of time if this letter reads like one big basset hound howl, but I just had a cup of coffee that has the very real potential to change my life. There is a place here called The French Press , and, thanks to their fearless leaders, Todd Stewart and Julia Mayer, they do caffeine and coffee shop ambiance ridiculously right. Come, sit, and stay awhile if you can.
Really, though, the coffee drinks are just the fuzz on the tennis ball in this town. The options for filling up your bowl are endless. Dot and I could not resist a trip to Lama Dog last week for obvious reasons. But, besides the smack of loa around the name and the loveable Tibetan mastiff that is the tap house's namesake, this place is a beer drinker's paradise on the ocean end of the Funk Zone; 20 different taps and a half dozen refrigerators full of bottled options had my tail wagging instantly. More of a craft-cocktail sipper? You just have to get right with big cats and hit up The Good Lion . Their drink menu rotates weekly and always features a wild and whimsical alchemy of libations with organic fresh-squeezed juices and scratch-made syrups. Can't support anything even remotely feline? The Imperial out Goleta way is a terrific plan B.
Luckily, Dot and I have eight legs between us, so we have covered a good amount of ground across the Santa Barbara drinking landscape this past summer. Classic strong drinks — ​whether you are a policy maker, a mover and shaker, or just looking to jump-start your night ​— ​are always found at Joe's Café . And martinis that raise your hackles are served at Harry's Café . The Bloodies at the Boathouse are essentially a meal packing a buzz, and you get an ocean view with each sip. Even better, the beach outside actually takes kindly to beasts like us and encourages us tail-waggers to walk free of leash. The beach is a paradise and close to our favorite bar, The Neighborhood. The place is like catnip for humans with so many games and screens and drinks and different things to eat that smell like the best treat ever! They even let Dot and I hang on the patio.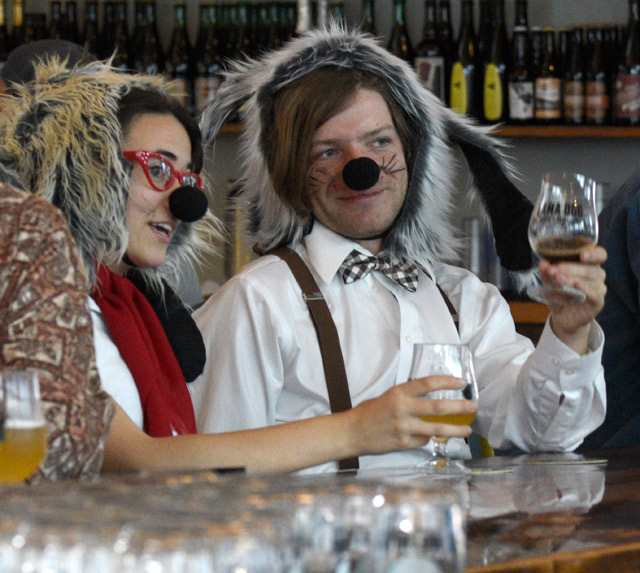 By Paul Wellman