Drama is a central ingredient at Angel Oak, which the Bacara opened as its fine-dining restaurant in June. The sprawling coastal resort at the western end of Goleta was without an upscale dining option for the 18 months since the closure of Miró, which debuted in 2000 as the property's original restaurant. The space's extensive remodeling and renovated vibe make it almost unrecognizable to those who'd known it before.
Upon escaping the resort's red-tile-roof motif, you enter a breezeway lined with stark columns and punctuated, at the end, by the floor-to-ceiling mosaic of a downward-looking female face. Once inside, the angular modern design is offset by many gnarled bonsai trees, and softened further by the abundant seaside scene outside, for the restaurant is set, almost precariously, atop the windswept bluffs that soar westward into the Gaviota Coast.
Once seated in front of the setting sun — perhaps after a craft cocktail at the bar, like the St. George Citrus Vodka–based California Lookout that my wife and I enjoyed — you're given impressively large, almost imposing menus, familiar to anyone who's visited a proper big-city steakhouse. And that's the theme Chef Vincent Lesage is going for.
"We wanted to take the traditional steakhouse, make it our own, and just elevate the concept a little," said the 31-year-old Parisian chef, who worked in numerous Michelin three-star restaurants in his hometown before coming to California to chef at the St. Regis Monarch Beach in 2008 and then the Balboa Bay Resort in 2013. "If you look at the Santa Barbara dining scene, there are not a lot of steakhouses and not a lot of high-end options. We wanted to be the place where you come to celebrate a special occasion, put on some nice clothes if you want to, and be happy."
But Angel Oak is cool with casual, too. "Everybody knows what a steakhouse is, so it's not intimidating; it's not a meal with 20 courses," said Lesage, who joined the Bacara in 2015 and lives nearby with his wife and 3-year-old daughter. "We didn't want to be that. We wanted to be a place where you can put on your flip-flops and T-shirt and come see us, too."
What's dramatic about the dishes themselves are that, in this age of inventive menu descriptions, Lesage's aren't overwrought with head-scratching foreign words and bizarre ingredients. "I realize that French cuisine sometimes makes people think that it's extremely fancy and complicated, which it is to a certain extent," said Lesage, explaining that his classical training forms the everyday backbone of his food. "I want to get away from that. You won't see French names on my menu, or at least very little. I think it scares people off. I use my techniques, and I don't talk about it. I'm trying to make something that people will recognize and enjoy."
In our case, we started with the halibut crudo, which floated on lightly spicy chili oil and uplifting flavors of mint, cilantro, and pickled cucumber, and the Ellwood Canyon Farms heirloom tomatoes, which swam in a liquid burrata and was topped with featherweight puffed croutons seemingly made from a mysterious pulse. Next, highly recommended by both Lesage and our informative, smiling server, James, came the lobster and house-made gnocchi. Those potato pastas looked and, thanks to the lobster, tasted like little bay scallops, and the dish's inherent richness was smartly balanced by ample lemon juice. The pinot blanc by Four Graces in Oregon's Willamette Valley fit each of the dishes quite well, as did the view of the Channel Islands and the various vessels, from oil rig tenders to fishing boats, that bobbed across the horizon as we ate.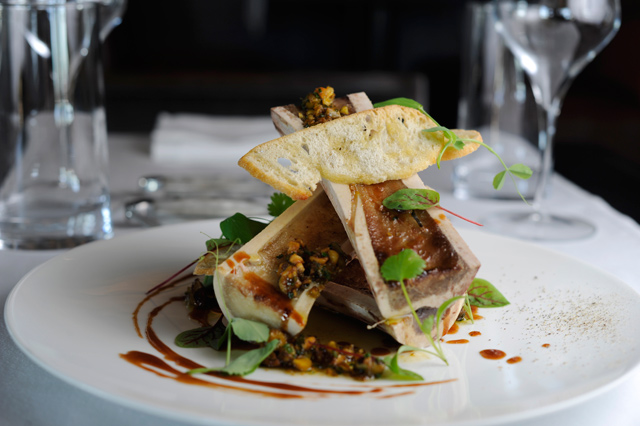 By Paul Wellman