Even though it literally rained on their parade, several dozen Donald Trump supporters arrived with gusto Sunday afternoon to the Santa Barbara County Courthouse to rally for the Republican presidential candidate. The demonstrators implored people to vote for the controversial GOP candidate for 30 minutes, then scurried out of the way for a scheduled 4 p.m. wedding.
The impromptu event — co-sponsored by "Moms for Trump" and the Santa Barbara Tea Party & Culpepper Society — saw several speakers encourage the crowd to get out the red vote the last week before the November 8 election. One admitted she was ambivalent toward both presidential candidates just weeks ago, but said she came around to Trump after she realized the media conspired to make him look ridiculous. Several stressed Trump has pledged to uphold the Constitution. Many statements carried religious undertones.
"I am not voting for him to be my pastor but to be my president," one speaker said, adding her key conservative issues were prohibiting abortion, vetting refugees, and upholding the Constitution. Another added: "I realized Trump is our man. I urge you to turn to Trump — he still stands for the true Biblical values of our country."
In between speakers, the crowd sang "God Bless America" and "Make America Great Again," a song written by Santa Barbara Republican Rolland Jacks. Many attendees donned red, white, and blue. Several held Trump-Pence 2016 banners. One woman brought a poster that depicted Hillary Clinton with a Hitler mustache. The opposite side of the sign praised Trump with clippings that read "100% Clear Vision," "Beating ISIS," and "The Donald Has Landed."
Most of the group was made up of older people. In Santa Barbara County, there are 1,500 less registered Republicans this year than there were in 2012. Registered Democrats now have a 15 percent advantage over Republicans. This drop-off is mirrored throughout California, and is a cause for concern for Republicans looking at down-ticket races.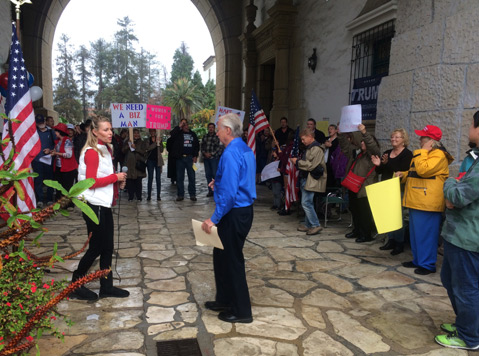 By Courtesy Photo