Address: 50 Barranca Avenue, #8
Status: On the market
Price: $875,000
I'm sure I've told you about my dog Scout and our daily beach walks. We're not particular. As long as we can hear the waves and walk on the sand, we'll visit whichever coastal spot is closest. Each beach has its own appeal. From Haskell's to Hendry's to Hammonds, you'll find us sunrise, sunset, or anytime in between that we can squeeze in a few minutes or more to catch some fresh air and a few rays.
But the spot that we seem to visit most often is Leadbetter Beach. Whether we stroll down the hill from Shoreline Park, or start at the harbor and switch onto the sand, that long curve from the breakwater to the point seems to be our most frequent strolling locale.
When I saw an open house listed for a condominium on Barranca Avenue, I knew the address was near Cliff Drive and Santa Barbara City College. But it wasn't until I pulled up to the gated entrance that I realized that my destination was familiar. This big white beachfront complex is part of the background scenery on many of our Leadbetter Beach walks. It is a recognizable landmark called the Shoreline Condominiums.
From the sand, it's the white three-story complex at the base of the Shoreline Drive hill. Its balconies stretch horizontally along the horizon, with palm trees as the only obstacle between its windows and the beach. Approaching the address from Barranca Drive, however, I was surprised at what a quaint neighborhood these buildings are nestled in. I expected more of a raucous college vibe, an Isla Vista-on-the-Mesa atmosphere. But even though City College is back in session, the entrance to the complex sits demurely on a shaded, quiet street.
I parked and oriented myself to the numbered buildings on the posted map. I saw that building 50 was to my right, and past the pool. As I walked around the corner, though, I wasn't ready for the resort-style pool that sparkled in the sun, greeting me on my route. It took all of my willpower to keep walking, rather than give up on my assigned reason for visiting to take a dip instead.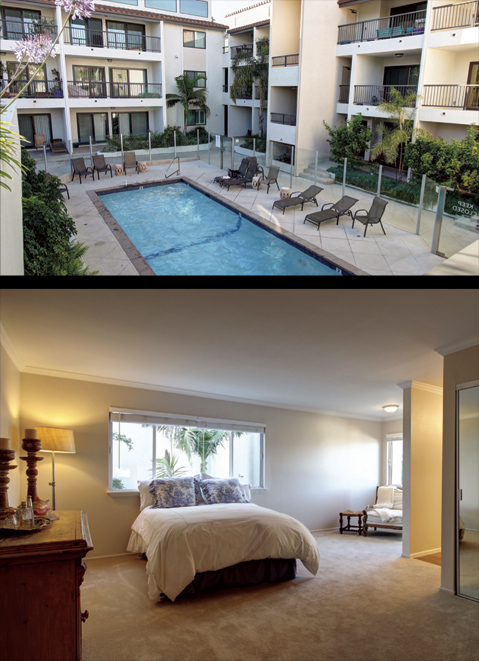 By Courtesy Photo