Political theatrics hit Santa Barbara hard this Thursday and from multiple directions at once. The regional director for the federal agency that owns Lake Cachuma — the Bureau of Reclamation — flew in from Washington, D.C., to soothe the fevered brows of water directors and water board members from all the water agencies drawing water off the dam, now down to its lowest level since 1953. At the same time, former Lompoc mayor John Linn and a troupe of about 20 Lompoc residents and their supporters descended on the congressional campaign offices of Salud Carbajal in downtown Santa Barbara, demanding that he apologize for referring to Lompoc as "the armpit of the county."
Carbajal, in Washington, D.C., for campaign-related matters and to attend a speech by Hillary Clinton hosted by the Hispanic Congressional Caucus, issued an out-of-town apology. Of the two events, the dust-up over urban armpits was the most light hearted — despite the bombastic effrontery taken — and most likely to blow over soonest. The drought is, after all, the drought and no amount of spin can change that fact.
"When there's no water, there's no water for agriculture, there's no water for M&I (municipal and industrial users), there's no water for fish," declared David Murillo, Bureau of Reclamation director of the Mid-Pacific Region. Murillo's presence won't guarantee the inundation of sudden rain, but it may have quelled some of the boiling animosity erupting between some of the water agencies that he says desperately need to cooperate.
The confab of water buffaloes that took place at Lake Cachuma Thursday afternoon was a far cry from the kumbaya fest hosted by Murillo's deputy, Michael Jackson, two years ago at the same spot with the same group. Instead, this year's was a display of collective rictus grin-and-bear-its issued by a gathering of high-octane technocrats bedeviled past the breaking point by circumstances beyond their control.
BODY POLITIX: To the extent there was any H2O to be had Thursday afternoon, Santa Barbara Supervisor Salud Carbajal found himself in it and it was hot, at least by Santa Barbara's political standards. According to the Carbajal camp, the supervisor had been speaking privately with a personal friend who worked for the Santa Barbara County Association of Governments (SBCAG) during a break in a public SBCAG meeting held two weeks ago. She had recently moved to Lompoc, and Carbajal reportedly asked her, in joking fashion, how she liked living in "the armpit of the county." The remark was reportedly overheard by Lompoc City Councilmember James Mosby, who then relayed it to conservative political activist and columnist Andy Caldwell of COLAB, who wrote an editorial blistering Carbajal late last week that appeared in the Santa Barbara News-Press.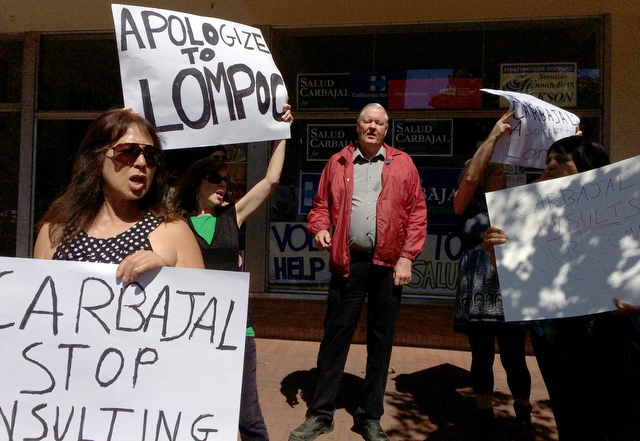 Keith Hamm