Santa Barbara was the first stop on Travis Scott's Bird's Eye View tour, a mega-spectacle featuring state-of-the-art lights, heavy-metal-style smoke effects, and a gigantic mechanical bird with laser eyes. All of which raises the question: Is Scott rap's next big thing, or is he just a new coat of feathers on the same old goose? A fast, confident rapper, Scott's very up-to-date flow makes him a strong match with other hot artists like 2 Chainz and Future. Both men have verses on Scott's best track, "3500," which was also the best song of the concert.
Photo Gallery
Travis Scott at the Santa Barbara Bowl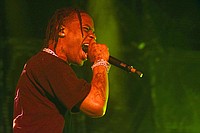 As a kid, Scott loved heavy metal, and there were moments, as the lasers flashed around him in rapid vertical blasts of stage smoke, that he dropped his Auto-Tune for a guttural thrash in the vocal. The rough-edged, high-energy tone meshed with the scene the artist encouraged in the pit, where he helped organize the stage diving. In the seats, it was pretty much "hands in the air" all night, making it clear that a Travis Scott concert is the place to be for mainstream rap fans in 2017. The Santa Barbara Bowl merch lines were as long as I've ever seen them. Will Scott's bird land here again? Stay tuned.