'The view does not get any better than this.' That is what continually popped into my head on my recent visit to the Sheraton San Diego Hotel and Marina. Due to its unique location on Harbor Island, no matter where your room is you will have dramatic water vistas. Higher floor locations look out over the marina and harbor to the northwest or downtown San Diego and Coronado to the southeast.
The Town
Viewing downtown San Diego from Harbor Island is reminiscent of the Miami skyline in places. As you walk on paths cut through the heavy Bermuda grass and lined with palm trees there is a similarity, especially looking at the newly constructed high rises in view. Thoughts of Don Johnson in Miami Vice crossed my mind here.
There is much to do these days in and around downtown, including Little Italy and the Gas Lamp Quarter for dining and drinks. The San Diego Padres baseball team plays at nearby Petco Park. World-famous San Diego Zoo is only 10 minutes away, too.
The Hotel
This is a very well-designed property with an elegant lobby area. The nautically themed entryway flows directly to the Harbor's Edge Restaurant overlooking the marina just behind.
Our Marina Suite in the Marina Tower was warmly designed, again with a nautical theme, and had two balconies. The sitting area was very relaxing with a wet-bar area to the side. The bedroom section included comfortable down bedding and an oversized bathroom as well as large closet space. The view of the bustling marina down below extended to San Diego Harbor with occasionally large vessels passing by.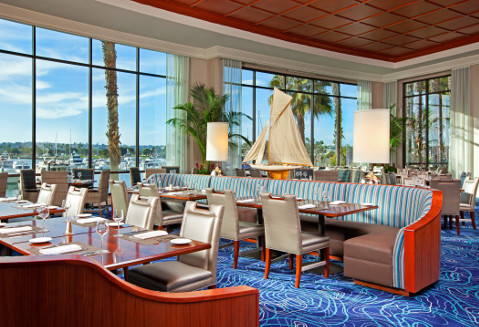 courtesy