The 41st annual Humana Festival of New American Plays at the Actor's Theatre of Louisville started with "crying it out" and ended with the assertion that "we're going to be okay." Those bookend titles accurately encompassed the wide range of funny, poignant and hard-hitting plays seen at the festival this year. With the impending demise of the National Endowment for the Arts potentially leading to the defunding of multitudes of artistic institutions, there was a loaded call to – as Molly Smith Metzler said — "ask the big questions" at this year's festival. Artistic director Les Waters and Associate Director Meredith McDonough, along with their savvy team of associates, compiled an eclectic, moving collection of commissions and new works to be performed in rep on their three stages. Humana, according to Waters, is "always evolving according to the shows we have the passion to do each year…what interests me when they are all put together is how people will detect something that wasn't there necessarily consciously." Staples of the season include an ensemble showcase of the nineteen apprentice actors and a talk with a leading national figure in the theatre. This year that role went to none other than the demi-god Taylor Mac.
This year's apprentice show, The Many Deaths of Nathan Stubblefield, co-written by Jeff Augustin, Sarah DeLappe, Claire Kiechel, and Ramiz Monsef, dug into the meat and bones of ownership, technology and invention. Deftly helmed by Erik Hoff, who has a strong design quality to his work and a history of engaging in collaborative processes, the show held everything from a voguing competition to a small operetta. Hoff's vision led the pastiche of 11 short plays using a "giant silver thread of dramaturgy"—a versatile fabric swath. This motif, along with the title character, helped the audience track – or create – a cohesive journey through several very different pieces of work. The effect was a kind of architectural structure of different tones and textures left unfinished, thus prodding the audience to ask more questions rather than simply reflect on answers. Inspired by Louisville's own mad wireless telephony inventor Nathan Stubblefield, the loaded themes of race, class, gender, mental illness, technological progress, and cultural appropriation kept the company and the audience on their toes. Vacillating from inspirations like "Yolanda, the only remaining disco ball manufacturer in the United States," (based in Louisville) to the 19 actors with their myriad special skills (from dancing and singing to roller skating and rapping), the show was a unique feat. Elijah Jones, Andrew Cutler, Anne-Marie Trabolsi, Alice Wu, Alex Milak, Daniel Johnson, Kevin Kantor and Kathiamarice Lopez shone, and each member of the company gave an exemplary performance. Keep an eye out for these new powerhouses to hit the national theatre scene with a vengeance.
With exceptional wit, a multifaceted lens, and on-point penning of character, playwright Basil Kreimendahl's We're Going to Be Okay took the audience on a journey that was both a blast from the past and a trip towards a queer explosion. As I am certain this work will surface soon all over the national theatre scene, I will not give too much of its funny and poignant story away. I will say that the parallels it describes between a certain loaded moment of fear in the 1960s and our current historical moment run disturbingly deep. This intimate look at two contrasting families digs up fodder that was criminalized in their cold-war world. The takeaway from Basil's story (excitingly directed by Lisa Peterson) is: the lower you try and bury it, the harder it explodes. Andrew Cutler shines with a natural ease and presence as the all-American son, and his colleague Anne-Marie Trabolsi dazzles in a subtle and demanding turn as the angsty, musical daughter of the next-door neighbors. Through these two young gazes we see the unique, refracted forms of their parents. The folks, played brilliantly by Kelly McAndrew, Scott Drummond, Sam Breslin Wright and Annie McNamara, were uniformly excellent. Wright's deceptively obsequious salesmanship skates on the brink of untenable in all the right ways, and when a total transformation comes along in Act Two he – along with the others – must break through to the other side of their ingrained identities. We're Going to Be Okay gives a clear answer to a question of progress in identity politics that I hope many will take into deeper, reflective consideration amidst change. Just look at the title.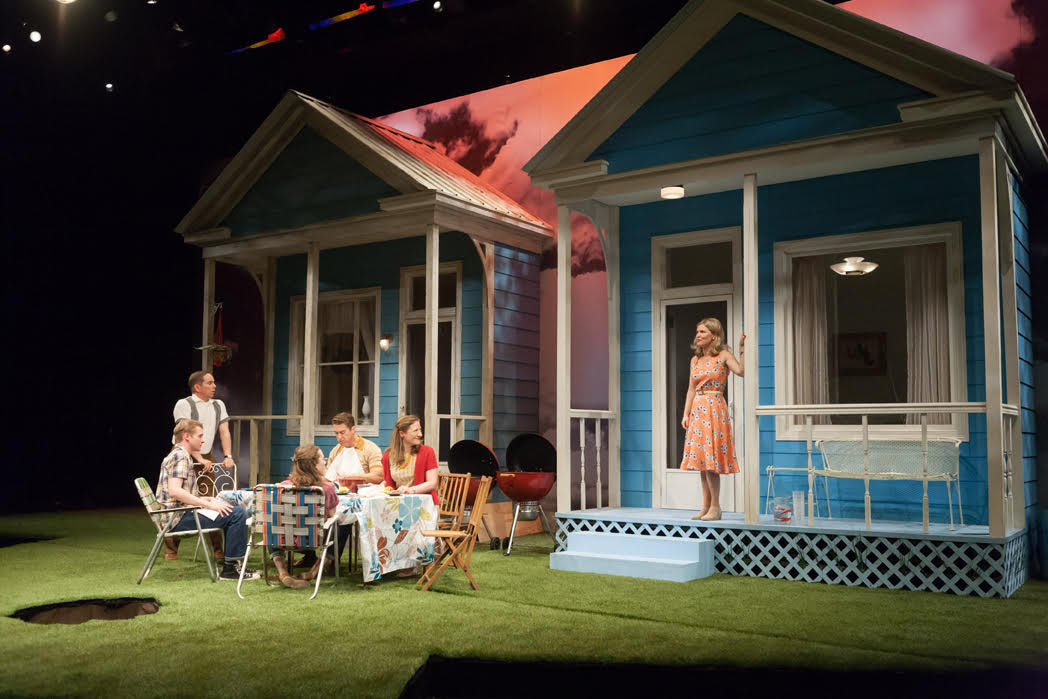 Bill Brymer