Okay. So you want to invest in the cannabis industry but have no idea where to start? One way to put your feet in the water is to attend a high end cannabis business conference focused on introducing large investors to new companies in the space. Recently I attended two such events, and a third is coming up soon.
ICCC in San Jose
The Institutional Capital and Cannabis Conference was held just a few weeks ago at the Dolce Hayes Mansion in San Jose. This venue is very popular in the Silicon Valley; it's an ideal setting for small conferences. Dolce Hayes Mansion is set in a residential neighborhood away from any other commerce. Once you are there, you will not leave for the day.
The two-level meeting space area flows out to an elegant outdoor patio area perfect for lunch or cocktail receptions. This area also works well during the event for meet-and-greet opportunities.
The ICCC event was put on by the Information Management Network (IMN) out of New York and sponsored by MedMen.com from Los Angeles. MedMen Capital is one of the leading investment companies in the cannabis space. Its other division — MedMen Management — the company offers turnkey management services to license holders in the areas of cultivation, extraction, production, and retail operations.
I had the pleasure of driving Bloomberg's Pimm Fox to the event, where he interviewed the keynote speaker in a very intense session. Chris Leavy, co-chair of MedMen, was his target for close to an hour, and they kept the audience on the edges of their seats.
Fox kept drilling into Leavy, just the way he does on air each day at Bloomberg, probing him on key industry details. One such exchange involved Fox asking, who will be the Starbucks of cannabis?
Leavy was well prepared, with metrics explaining that there is no clear-cut choice right now as the cannabis market is fragmented, meaning that we are still early stages for this investment vehicle. Most attendees that I spoke with were very happy with the event and even stayed on talking well past the conference end. For more information on the sponsor visit MedMen.com.
Gateway in Palo Alto
Page Mill Road is synonymous with venture capital success, and those attending the recent Gateway event were in search of the same kind of returns. Gateway is the leading incubator of early stage cannabis companies, and at this event they were introducing recent graduates of their program.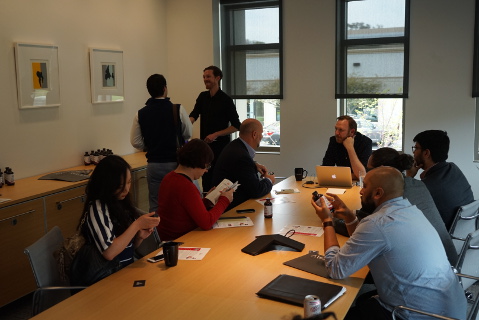 courtesy