Cory Richards has summited Everest, but perhaps his biggest life challenge has been battling his personal demons. As a troubled teen, Richards found focus and release through climbing and taking pictures, which he eventually parlayed into a career. Despite his successes — he is a professional alpinist and an acclaimed National Geographic photographer — Richards has battled alcoholism and was diagnosed with PTSD after being caught in a level 4 avalanche that almost killed him. After years of struggle, he was able to get his life on track by speaking with audiences around the world about his endeavors both on and off the mountains. "In terms of post-traumatic stress disorder, that's just a natural thing to talk about for me, because it's affected me; it's infected me," Richards said in a recent phone interview with the Santa Barbara Independent ahead of his December 7 appearance at UCSB's Campbell Hall. "And using the adventure hook to get people involved in talking about more serious and more profound issues is really just a trick. It's like, 'Okay, let's look at some really cool shit, and then let's talk about what's important.'" What follows are snippets of our conversation.
What is it you love about climbing? Are you an adrenaline junkie? No, in fact I'd paraphrase [rock climber] Alex Honnold in saying that if I'm feeling adrenaline, I've done something very, very wrong. I think the point of this kind of activity is to alter one's perception of value. What is valuable in life? Is it having a big home and lots of things? For some people, that is.
If you strip that away, which climbing adventure has a great way of doing — it's really a reductionist activity — you start to have a much clearer understanding of what your values really are. You're left with very little room for bullshit … for sort of the asinine and the mundane, because your immediate surroundings in these environments mandate survival …. You start to value your relationships much more profoundly, and you start to value the time that you have with people, because by walking a little bit closer to our own insignificance, we find out how significant our time and our relationships here really are.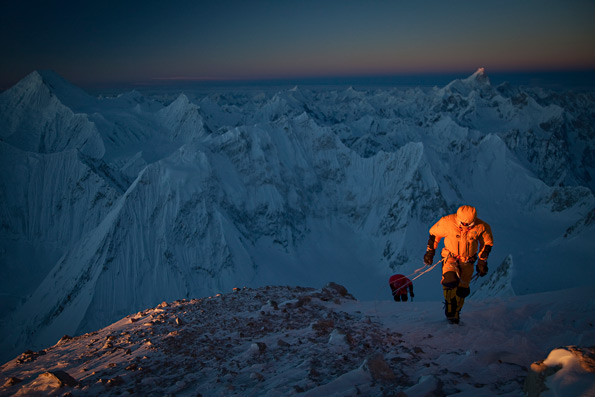 Cory Richards