[Update: Thursday, 11:30 p.m.] Skies were cool and calm — albeit hazardously smoky — Thursday evening as hundreds of concerned residents filled Carpinteria High School's gymnasium for a Thomas Fire update from command teams, elected officials, and Santa Barbara County Sheriff Bill Brown as the 115,000-acre wildfire raged on just a few miles away in Ventura County.
The wind-driven blaze, which so far has destroyed nearly 450 structures and displaced tens of thousands residents in its fast-moving and erratic path, has yet to leap Highway 150 and land in Santa Barbara County. However, officials have expanded mandatory evacuations into the northeastern foothills of Carpinteria. Initially, authorities called for mandatory evacuations north of Highway 192 between Santa Monica Road and the county line, which would have included the at-capacity gymnasium. Sheriff Brown amended that boundary, though, clarifying that Highway 224/Casitas Pass Road is the western edge of that evacuation boundary. An evacuation warning has been extended westward to Toro Canyon, Brown added, stressing that anybody living in a warning zone ought to get gas, pack valuables, and make a plan. He reminded the crowd that overnight Wednesday the Thomas Fire traveled nine miles in 12 hours.
Photo Gallery
Thursday Evening Press Conference Amid Expanded Evacuations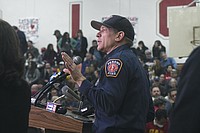 Hundreds of concerned residents filled Carpinteria High School's gymnasium for a Thomas Fire update from command teams, elected officials, and Santa Barbara County Sheriff Bill Brown as the 115,000-acre wildfire raged on just a few miles away in Ventura County.
"This is so seriously important," said Senator Hannah-Beth Jackson, present with County Supervisor Das Williams and Assemblymember Monique Limón, who also addressed the crowd in Spanish. "Be prepared!"
Ventura County Fire Captain Brendan Ripley, who specializes in analyzing fire behavior, explained, "Right now, the vegetation is at its driest point" and in the midst of the region's unprecedented seventh year of drought, despite coming off a wet winter. Firefighters have also been battling through four consecutive days of red-flag conditions, with three more forecast through Sunday. "The wind component is our greatest nemesis," Ripley said, explaining that it's not uncommon for wind-whipped embers from the main line of fire to travel an airborne mile before igniting a patch of untouched fuel.

Air quality in Carpinteria is officially "hazardous" — as bad as it gets. Residents not evacuating are urged to stay indoors and to wear N95 face masks if they need to be outside.
[Update: Thursday, 8:34 p.m.] Santa Barbara County is working to clarify the evacuation boundaries it released late this afternoon. According to a spokesperson at 8:20 p.m., voluntary evacuation warnings stretch from Toro Canyon Road on the west to Casitas Pass Road on the east. Highway 101 forms the southern boundary of this area, which extends north to East Camino Cielo. The voluntary evacuation area below Highway 192 between Highway 150 and Casitas Pass Road remains in effect. The mandatory evacuation order covers the area north of the 192, as far west as Casitas Pass Road and as far east as the 150 as it makes its way up toward Lake Casitas.
This map outlines the areas under evacuation as of 12:00 p.m. on Tuesday, December 19. Orange areas are under a mandatory evacuation order, while voluntary evacuation areas are in yellow. Click on the brackets in the top-right corner of the map to enlarge it.
[Original story: Thursday, 7:45 p.m.] While winds in Carpinteria are relatively calm this evening, mandatory evacuation orders now cover much of the area to the east of Carpinteria and a new voluntary evacuation warning has been issued, extending across Carpinteria and into Toro Canyon.
At the 6 o'clock news hour, government officials working at the Thomas Fire Incident Command set the tone of caution. Now entering its fourth day, the 115,000-acre blaze continues to burn aggressively. 2,509 fire personnel are working the fire, operating 471 engines, 12 helicopters, and 26 dozers. So far, their efforts have yielded 5 percent containment.
The incident's meteorologist explained the Santa Ana winds had weakened, causing the fire's future to be more unpredictable. He added the weather conditions were "on the poor side" — temperatures in the 70s and 80s with humidity below 10 percent. The command chief noted the fire had inched closer to the Santa Barbara County boundary line but "we did have crews that were actively engaged and had very successful suppression activities."
Thomas Fire Unified Command leads a press conference on Thursday evening as evacuation areas in eastern Santa Barbara County expand.
Santa Barbara County Sheriff Bill Brown said lessons were learned from the devastating wildfires that ripped through Northern California in October. "We wouldn't [want to] have a situation where people were in a difficult area to evacuate," Brown explained. The new evacuation warning and orders are designed to avoid that scenario. Brown stressed that the fire moved about nine miles in 12 hours. "It really is important for people who live in Santa Barbara County in the coastal Carpinteria area to Summerland to be ready to go at a moment's notice," he said, advising residents to gas up their cars, collect their irreplaceable documents and valuables, and create a plan about where to stay.
As of Thursday evening, the latest tally for structures destroyed is 427.
The continued transition of evacuation warnings to evacuation orders as the Thomas Fire races westward suggests a deep uncertainty about the possibility of swift containment along the Santa Ynez Mountains. Winds out of the north and east continue to create "extraordinary spotting behavior," according to Andrew Madsen, Los Padres National Forest Public Affairs Officer. "It's spotting great distances ahead of the body of the fire, and we're pulling in federal resources so we can staff a response."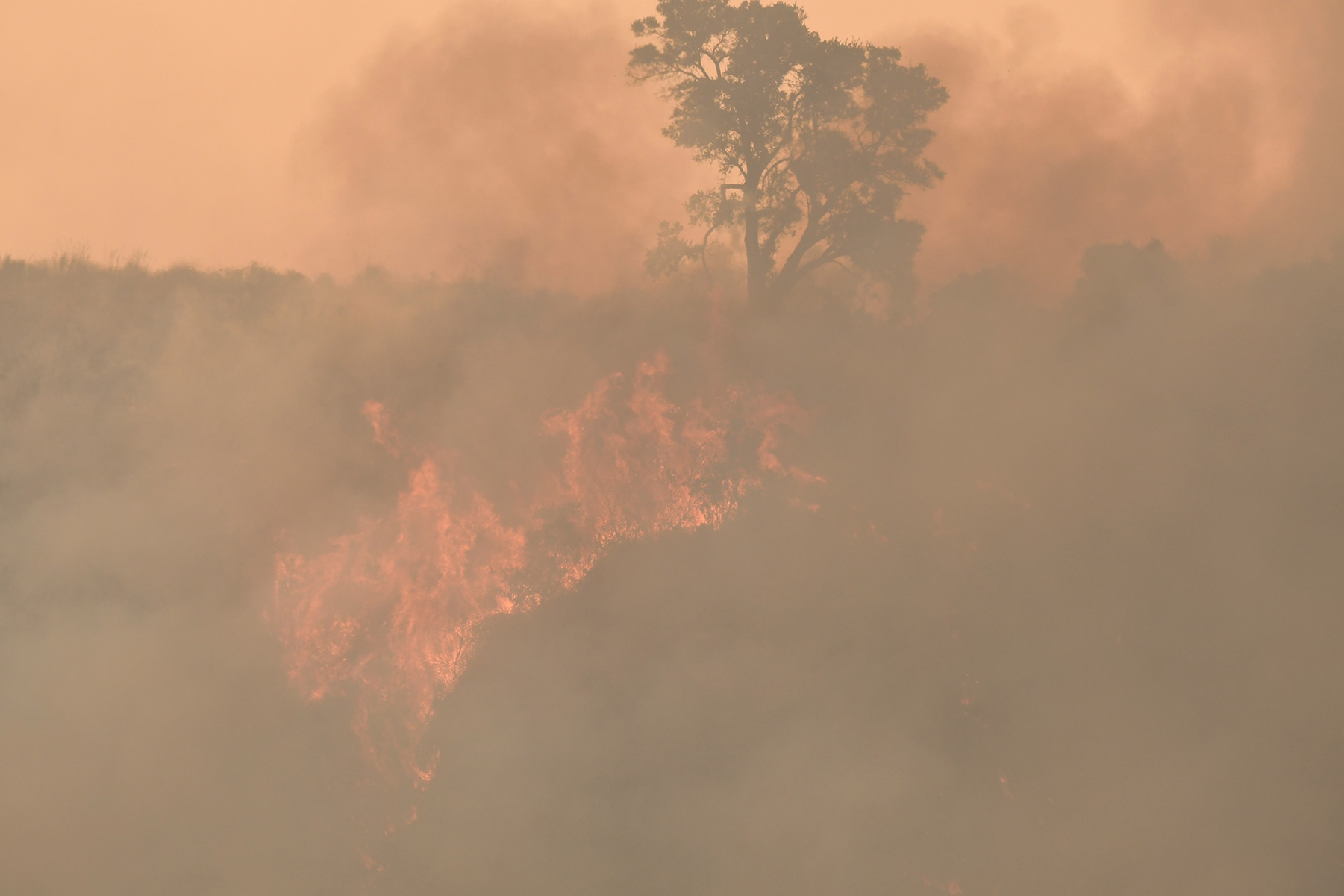 By Paul Wellman