[Update: Sunday, 6:31 a.m.] Residents as far west as Buena Vista Drive and north of Highway 192 are being told to evacuate now. This area is under a mandatory evacuation order as of 6:13 a.m. Additionally, those areas south of Highway 192 and east of San Ysidro Road are now under an evacuation warning. Residents in the evacuation warning area "should be prepared to leave in a moment's notice," according to the sheriff's office.
[Update: Sunday, 3:06 a.m.] Following a brief power outage across the South Coast around 1:30 a.m., at 2:19 a.m., mobile phones across the region issued an Emergency Alert, declaring a "Civil Emergency in this area until 2:34 a.m. PST Evacuate Now SBCOEM." SBCOEM refers to Santa Barbara County Office of Emergency Management, who later clarified the evacuation order to be for the northern reaches of Carpinteria only: "The evacuation is for area North of 192 east of Toro Canyon to county line. Leave now."
This map outlines the areas under evacuation as of 12:00 p.m. on Tuesday, December 19. Orange areas are under a mandatory evacuation order, while voluntary evacuation areas are in yellow. Click on the brackets in the top-right corner of the map to enlarge it.
The area to the north of Highway 192 and east of Toro Canyon had been under an evacuation warning since conditions improved early on Friday morning, but gusty winds along mountain ridges and significant "spotting" of the Thomas Fire have brought this area under a mandatory evacuation order at this time.
Kevin Donoghue, a public information office with the Thomas Fire Incident Command and a resident of Carpinteria, said that "Residents can now see significant fire in the area of Highway 150. He added "There is now a precautionary advisory for all of Carpinteria, which came from Incident Command." A precautionary advisory refers to a voluntary evacuation warning. Donoghue said that residents living south of Highway 192 and to the east of Carpinteria High School should be prepared to evacuate if ordered. Santa Barbara County Office of Emergency Management said this morning that "The rest of the City of Carp is under Advisory. Be prepared."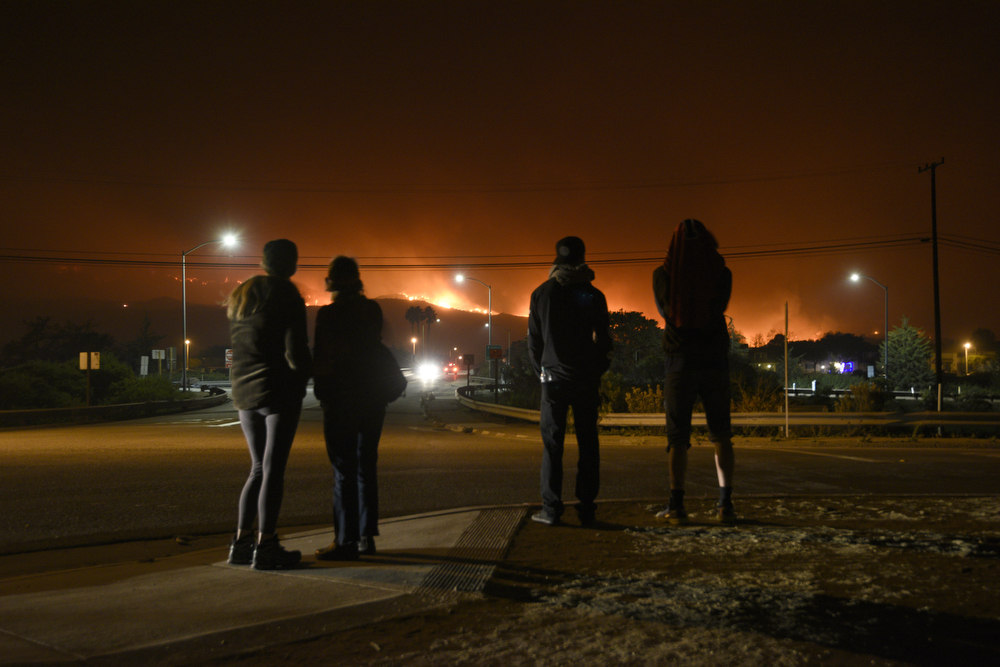 By Paul Wellman