[Update, 12:00 p.m.] Governor Jerry Brown is speaking at a press conference in Ventura as he continues to tour areas affected by the Thomas Fire. A live stream of the press conference is available below:
[Update, 10:30 a.m.] Authorities this morning lifted mandatory evacuation orders for parts of Carpinteria. Residents may return to the Shepherd Mesa and Gobernador Canyon areas, which have been downgraded from mandatory to voluntary evacuation status. The warning notice north of Highway 192, westward to Toro Canyon remains in effect. Also, all levels of evacuation have been lifted from areas to the south of Highway 192, including the City of Carpinteria. The Rincon Point area remains under a mandatory evacuation order.
[Original story, 9:16 a.m.] Friday night proved a good one for firefighters combating the Thomas Fire raging throughout northern Ventura County. Crews brought containment up to 15 percent. That's up from 10 percent the day before. The number of acres involved grew by 5,000 from yesterday, now up to 148,000, but that rate of growth is significantly slower than previous days.
This map outlines the areas under evacuation as of 12:00 p.m. on Tuesday, December 19. Orange areas are under a mandatory evacuation order, while voluntary evacuation areas are in yellow. Click on the brackets in the top-right corner of the map to enlarge it.
For Santa Barbara County residents, the big news is that the fire has not crossed the county line and still remains a mile away from the border. "Last night was a good one for the fire crews," said Amber Anderson, public information officer for the Joint Incident Command. "The winds didn't surface like we were expecting. There was a little gusting, but the crews were able to go after it a little more." Anderson said the Santa Ana winds that instigated the Thomas Fire in the first place could whip up again later this afternoon, but said they were expected to be lighter.
To the extent the fire grew yesterday and last night, it was into the Los Padres Forest. No new structures were destroyed. "Our number-one priority now is protecting the Carpinteria area," Anderson said. "We're throwing everything at the western perimeter. We have crews working direct; we have containment lines; we'll be working Carpinteria hard today." By "everything," Anderson said the Thomas Fire has been joined now by 20 fixed-wing aircraft, 24 helicopters — two of which are equipped for night flying — and 3,993 firefighters from multiple agencies.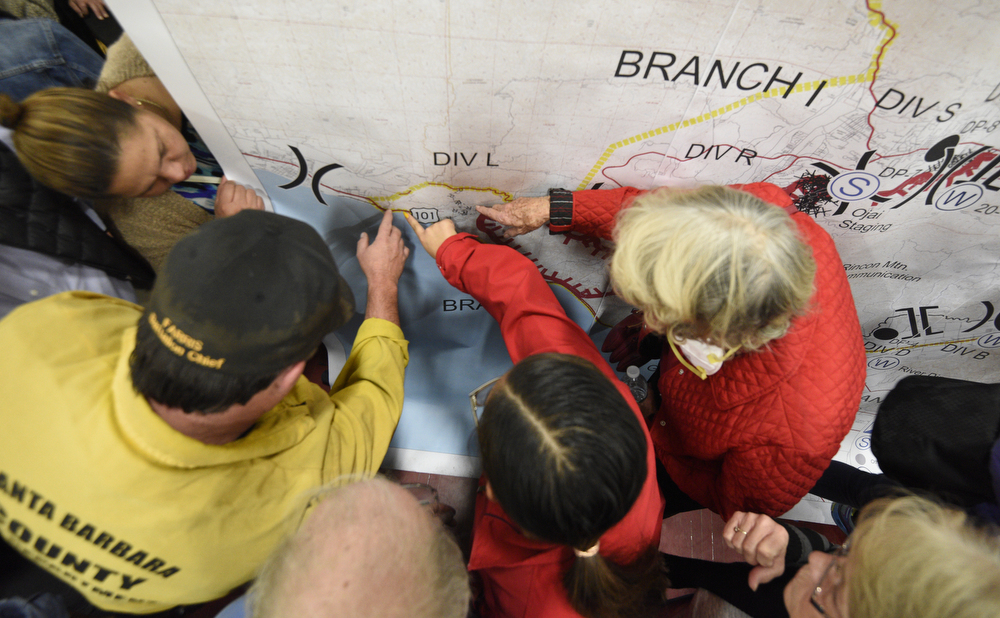 By Paul Wellman