The good news is that the Thomas Fire grew by maybe 1,200 acres Monday, as compared to the 50,000-acre-growth spurt it experienced the day before, bringing the inferno's total shoeprint to 231,700 acres. It's also 20 percent contained, as measured by the fire's Incident Command.
The bad news is that for the first time, the fire is now — as of nightfall — visible to City of Santa Barbara residents. While the visual impact is decidedly unnerving, Santa Barbara City Fire Department Public Information Officer Amber Anderson said, "The fire is moving up the slope. It's moving as expected." She added, "I understand it's causing concern, but we have a lot of resources on it." Her boss, City Fire Chief Pat McElroy added," It's going exactly where we want it to go — back up the hill to patches that have already burned." As for resources, he said Carpinteria, Montecito, and Summerland had 15-20 strike teams, which translates to about 80 engines." McElroy said one reason the fire is so visible now is because much of the smoke has cleared.
As of this writing, about half the involved acreage is located in Los Padres National Forest, but the part of the fire backing up against the fuel-laden backyards off Toro Canyon is still giving fire commanders gray hair and keeping them and the 6,400 assembled firefighters up late at night.
Fire crews fought the ground and air game from dusk until dawn on Sunday, as the Thomas Fire exploded in size and made a run on the Foothills above Carpinteria.
Toro Canyon — just up above Highway 192 — was the real point of attack today, with a DC-10 and a 747 aerial tanker dumping retardant when smoke allowed and about 28 helicopters dropping water. Keeping the fire contained to Toro Canyon is Plan A and B. Today's winds were less forceful in pushing the fire westward, and tonight's winds are predicted to be mild, said Santa Barbara County Battalion Commander Chris Childers. "We had some success putting it out and holding it in its place," said Childers at a community forum held Monday afternoon at the San Marcos High School auditorium. "I'm optimistic and hopeful we're going to stop it today." Childers then added, "Optimistically, I'm hopeful, but don't count on it." At a previous forum, Childers had stated, "Hope is not a plan."
Should the fire get past Incident Command's clutches in Toro Canyon — and some unconfirmed Facebook posts indicate that might have taken place, with flames showering down Romero Canyon — Childers outlines a succession of backup plans. The ultimate line in the sand is Highway 154, but that's still a long way away. A phalanx of eight divisions has been assembled along the front-country interface between human habitation and undeveloped wildland. Each division has four to eight strike teams, and each strike team has five engines, each with three to five firefighters. They are prepared to engage the fire in house-to-house combat as much as possible. The hope, however, is either to contain the Thomas Fire where it is, or to funnel it into the pathway of fires that burned in the past decade, where the fuel load is notably lighter.
Of the six major fires in Southern California, the Thomas Fire is by far the biggest and has been declared the top priority for state and federal firefighting agencies. Although Thomas started in Ventura County, the real action is now taking place in Santa Barbara County. To date, 100,000 people have been evacuated because of the fire. Of those, 7,200 are in Santa Barbara County, though another 34,000 county residents have been placed on warning they could soon be evacuated. No new evacuation notices have been sent out today, though rumors to the contrary have popped up.
County Undersheriff Bernard Malekian announced that one would-be looting suspect was arrested near Highway 192 and San Ysidro Road, an evacuated zone. "That person has now been evacuated to the main jail," Malekian told the crowd. He also announced that the sheriff and the district attorney were putting price gougers on notice they will be arrested and prosecuted if they try to take unfair advantage of the fire. That, he said, constitutes raising prices more than 10 percent.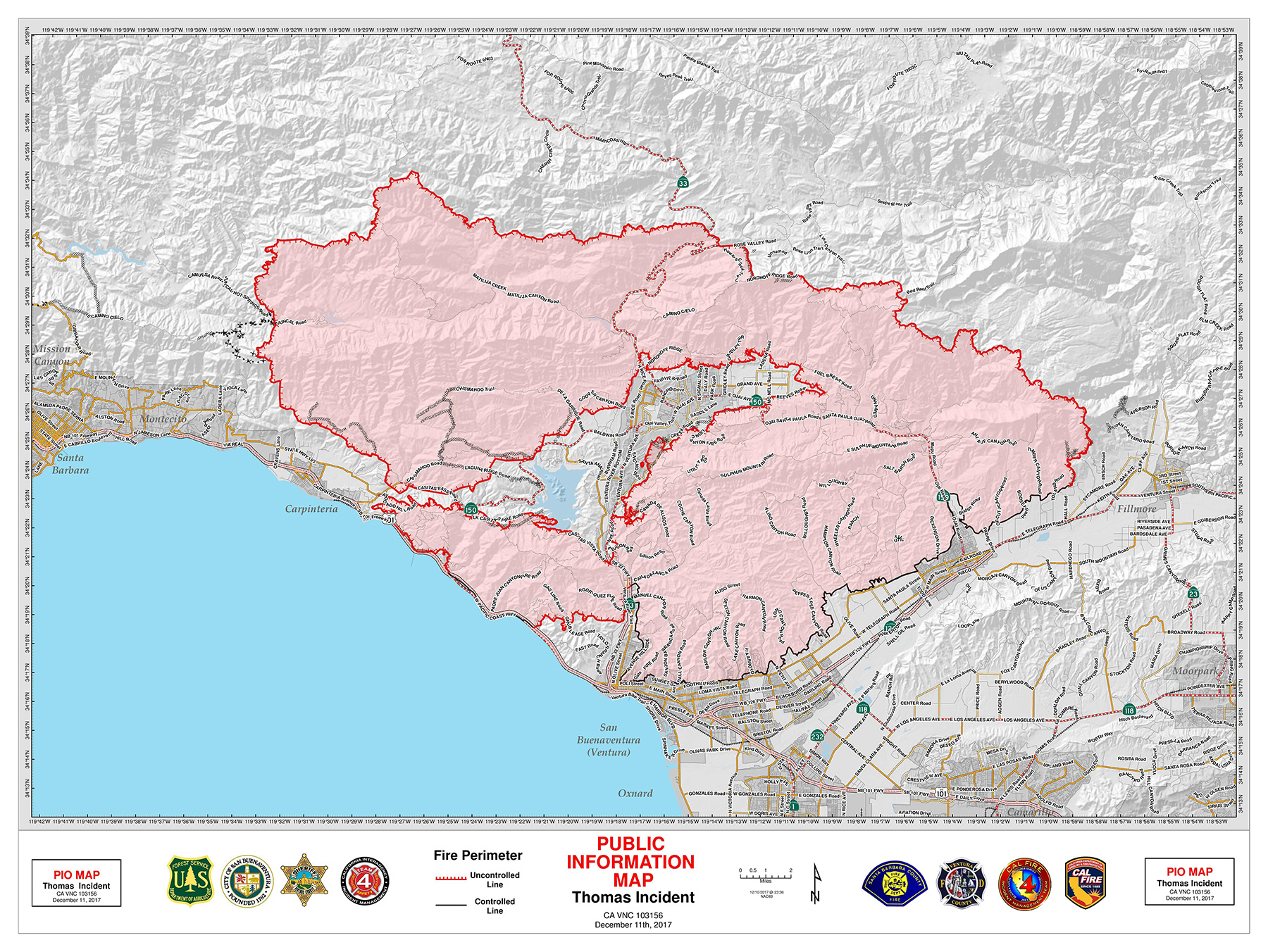 Cal Fire