Today marked the toughest day so far in the battle against the Thomas Fire in Santa Barbara County, as the blaze flared up early this morning under heavy, steady, and predicted winds. "It was just a constant fire front all day long up there," said U.S. Forest Service Division Chief Mark von Tillow before this afternoon's town hall meeting at San Marcos High School. "I was up there [near the west fork of Cold Springs Canyon off Gibraltar Road], and the wind was coming pretty much straight out of the north, at about 40 miles an hour, I'd say."

Incident commanders didn't have a precise update on how many more acres had burned today and didn't want to release that number without concrete information. As of Saturday evening, the Thomas Fire had burned 267,500 acres — ranking as the third largest wildfire since California started keeping count — with containment at 40 percent.
With recorded wind gusts of 62 mph working their way down canyons and into the foothills, fire crews from San Ysidro to Sycamore Canyon, East Mountain Drive and through Cold Spring Spring fought to prevent the Thomas Fire from spreading throughout Montecito.
"We made a lot of preparations for this wind event [today]," said Santa Barbara County Fire Chief Eric Peterson, detailing how ground crews have been cutting and reinforcing firebreaks as helicopters and fixed-wing aircraft have dumped millions of gallons of water and retardant. Currently, he said, there are 400 trucks in the Montecito area, today's focal point. "We had five days to prepare for this," he said. "That's why we've had no injuries and [only] minor structural damage. But we're in a pretty severe firefight right now."
As of about 5 p.m. the most active front of the Thomas was above Cold Springs Road and Westmont College. "It's working its way down toward Parma Park," Peterson said. "It hasn't [reached] Gibraltar Road, but it's headed that way." He said the fire was "almost to the Glass Factory," an unofficial shooting range in Los Padres National Forest backcountry, near Gibraltar Reservoir.
Petersen said the fire has slowed considerably since hitting younger fuel that has sprouted up since the Tea Fire in 2008. He added that crews don't have many options on how to stop it from getting all the way to Highway 154 but reminded the audience, "That doesn't mean the fire will get that far." Crews are hoping for relief as winds are expected to die down in the next couple of days, providing aircraft a window of calm to resume water and retardant drops.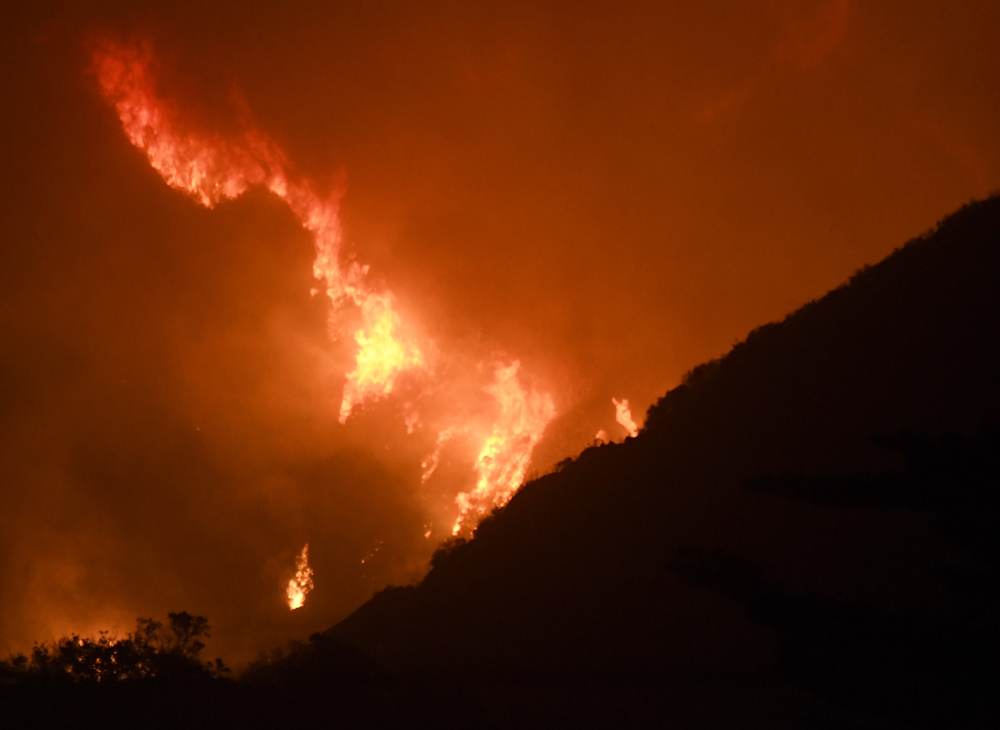 By Paul Wellman