HOME ON THE RAGE: Linda Trevino isn't moving anywhere. Why should she? She was here long before there was even a "here" to be from. But staying put might prove exceptionally challenging.
Most people trace their bona fides as Certifiable Santa Barbara Locals by where they went to high school. By this metric, Trevino passes the "Don" test with flying colors, having graduated from Santa Barbara High School in 1979. But that's nothing. Trevino can trace her family back to the so-called Spanish "leather jackets" who first settled Santa Barbara more than 200 years ago. She's a Cota, after whom the street between Ortega and Haley streets was named. More than that, Trevino has the paperwork linking her blood lines to that of Justo, the Barbareño Chumash "captain" of the village at Cieneguitas, now Hope Ranch. That was before the Chumash occupants there got burned out by a succession of deliberate arson fires that paved the way for what we now know as progress.
Despite her pedigree, Trevino may now find herself on the wrong side of history, at least as the Santa Barbara City Council has chosen to rewrite it. That's because for the past five years or so, Trevino has lived in an RV. In 2006, she injured her back. In 2009, she said she sustained a head injury during an assault, and the after-effects never went away. A little later, scoliosis would set in. All these combined conspired to put Trevino on the disabled list where 9-to-5 work was concerned. Her husband—with whom she shares a four-wheeled home on wheels—has a similar conclusion. For years, the couple and their two small dogs have been part of the city-sanctioned Safe Parking program, which provides nighttime management at a handful of parking lots set aside for about 150 people who find themselves forced to live in their cars, trucks, or RVs.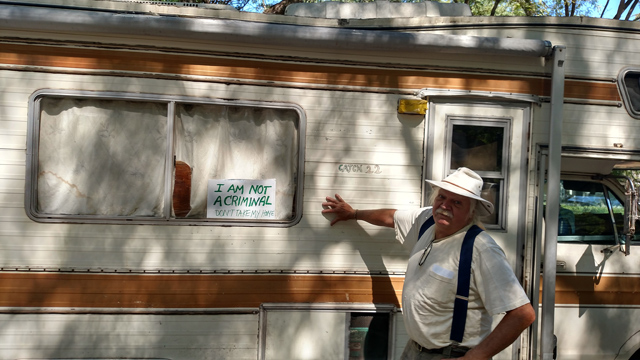 Cathy Murillo