Many may know the little triangle of land at 217 North Milpas Street, currently occupied by Taquería La Colmena, but few may know the history behind it. Built in 1951, the shapely structure housed the Triangle Café, once run by my uncle, Jim Branigan, and his wife, Roma.
Jim came from a foodie family. The Branigans owned and operated Branigan Ice Cream, established in 1915, which sold ice cream in the Milpas area by truck and horse-drawn carriage in the 1940s. Jimmy, as we called him, remembered caring for the horse and riding in the wagon as kids ran out to get their ice cream bars.
Jim was totally blind, having diabetes which took his eyesight. To operate the café's cash register, he would fold the corners of the money to determine what denomination of bill he was handling. They moved the register to the center of the bar so that the cook could oversee the register, and the cook would strike his spoon once on the stove if a customer was trying to cheat him.
Jim had a wonderful guide dog, Rex, who accompanied him everywhere and was very protective of Jim. Sadly, a customer, angry because Jim kicked him out of the café for cheating on the money, poisoned Rex.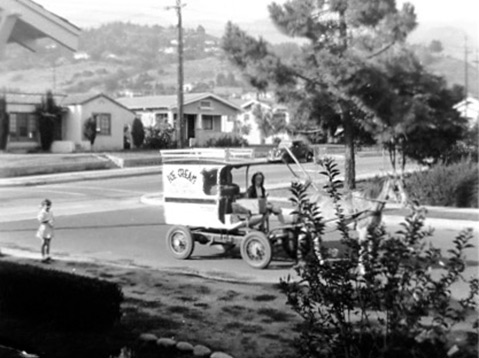 By Courtesy Photo