Das Williams showed up to the first day of his new job as a county supervisor without prepared remarks. Even so, the former state assemblymember recited a line from "his favorite dead white male," T.S. Eliot: "Take no thought of the harvest, but only of proper sowing." He explained, "Our society does not prize long-term thinking … I want my values to be more than surface pretention."
Joan Hartmann, meanwhile, said while America's faith in nearly all institutions has tanked, the glimmer of hope is local government. It doesn't get much more local than Santa Barbara's Board of Supervisors.
Williams, 42, was elected to represent the 1st District, which stretches from Montecito to the western edge of the City of Santa Barbara. Hartmann, 66, will represent the 3rd District, spanning Isla Vista to the Santa Ynez Valley, and up to Guadalupe.
They both received a warm welcome from an overflowing board hearing room, but the cheerful congeniality might not last. Conservatives grumble that the new board will continue to tilt to the left since Williams and Hartmann are liberal progressives.
They are joining Janet Wolf, who seldom budges from her strong, progressive values. Her soft, motherly presence can be deceptive; she is fierce. In addition, Steve Lavagnino, once the GOP's golden boy and son of a Santa Maria mayor, is increasingly seen as reasonable by liberals. That means archconservative Peter Adam, the owner of a large commercial farm in Santa Maria, is regularly the lone vote. He was the only supervisor to support Donald Trump, saying, "I think it represents saving America as we know it."
Though Adam was usually the odd man out, the dynamic of the old board grew affable, as the five county supervisors appeared to truly like each other. "I was surprised that I was as emotional as I was about the other two leaving," Lavagnino said. As for the new personalities, he said they "will figure it out."
They will have to. This year's budget will be a challenge. The county must contribute an estimated $11 million more to the employee pension fund next fiscal year. Ultimately, this could translate to layoffs, reduced services, and slower services. In addition, more money was recently allotted to fire services. And the county supervisors previously voted to tuck away more money each year to maintain county roads and parks. The county must allot several million dollars every year for the future operation of the new northern branch jail, now under construction.
But the greatest uncertainty fast approaching is the Trump presidency. Trump has already indicated he would repeal the Affordable Care Act, deport undocumented immigrants and oppose raising the minimum wage ​— ​just some of the things that a majority of California voters have supported. In fact, Governor Jerry Brown recently appointed Xavier Becerra, congressmember from Los Angeles, as the state's attorney general, to fight Trump's plans.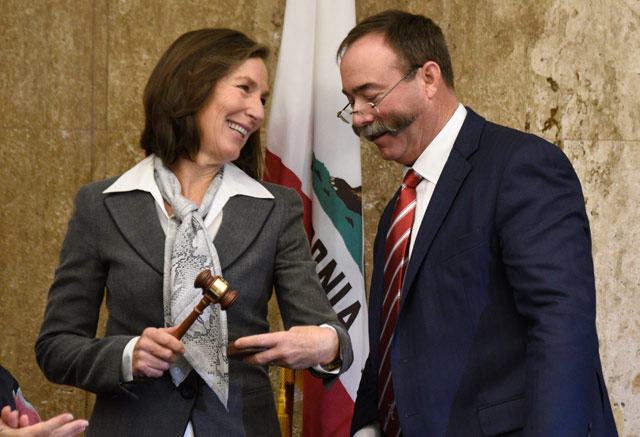 By Paul Wellman