Moments after the Whittier Fire sparked to life just off Highway 154 near Lake Cachuma on Saturday, July 8, U.S. Forest Service patrolman Dave Dahlberg was dispatched to the scene to make sure those fleeing the blaze didn't get in the way of arriving emergency crews. As California Highway Patrol officers arrived to take over traffic control, Dahlberg heard radio chatter that a large group of kids and counselors were at nearby Circle V Ranch Camp, trapped at the end of a narrow dirt road that was engulfed on both sides by raging walls of wildfire. Dahlberg jumped into his patrol vehicle and started up the road toward Circle V; just ahead, veteran Santa Barbara County firefighter Mark Linane Jr. bulldozed fallen trees and loose boulders, clearing the only way in or out. The smoke was so thick that the men could barely see a few feet up the path.
Arriving ahead of the flames, Linane began cutting firebreaks around the compound ​— ​a dining commons, cabins, and outbuildings ​— ​and Dahlberg introduced himself to dozens of staffers and counselors, who, following the camp's established fire plan, had gathered the kids, ages 7-13, in the dining hall and were working to keep them safe and calm. A handful of vehicles were parked nearby, but any attempt to shuttle 90 kids through the oncoming fire seemed like a bad idea.
Dahlberg radioed Santa Barbara County Fire Marshal Steve Oaks, who was monitoring the evacuation from the bottom of the access road at Highway 154 and kept in radio contact with his own team. Also on the scene was Forest Service Division Chief Mark von Tillow, who knew the area from hosting annual wildfire training camps at Circle V. Dahlberg reported that everybody was accounted for and safe ​— ​so far.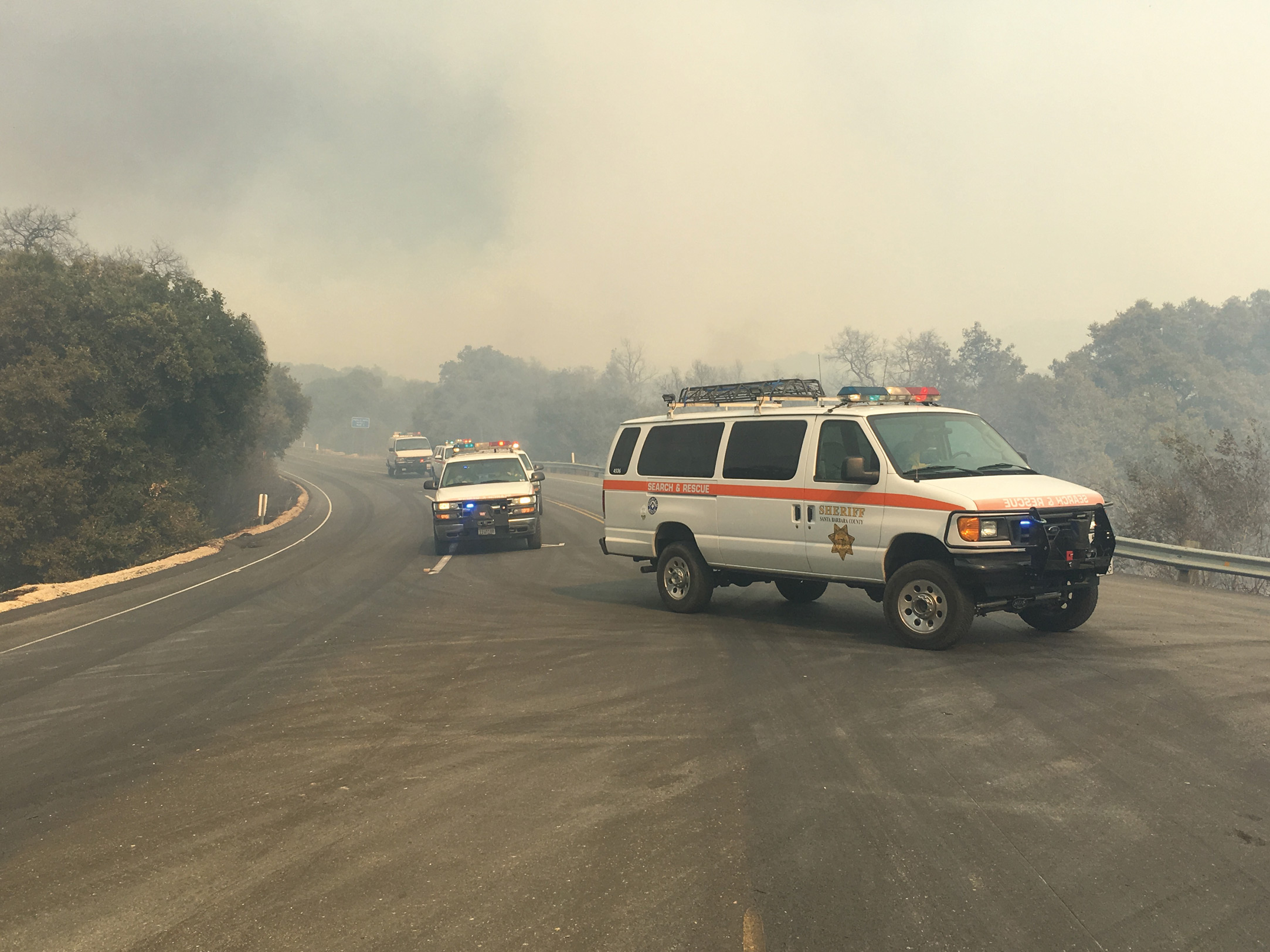 Courtesy S.B. County Sheriff