Leane Ledbetter may be the only woman who ever celebrated her 55th birthday by throwing touchdown passes. After helping the Brunettes score a 28-14 victory over the Blondes in their fourth annual flag-football game, Ledbetter had the game ball ​— ​her ball ​— ​tucked under her arm. "I ordered it on Amazon," she said of the artificial pigskin. "I love throwing this ball."
She threw the football in tight, accurate spirals, two of them into the hands of Annick Lamb in the end zone. Where did Ledbetter learn to pass with such proficiency? "I've been a PE teacher for 27 years," she said. "I've thrown a lot of passes." Any resemblance to the great Johnny Unitas was intentional. She wore his No. 19. "My chosen number," she said.
Ledbetter got her start in sports as a basketball player at Dos Pueblos High at the beginning of the Title IX revolution, the antidiscrimination law that spurred the growth of women's and girls' sports. Most of the other Blondes-Brunettes players were energetic twenty- to thirty-somethings who grew up in team sports, which made for an exciting and sometimes bruising football game Saturday at Bishop Diego High.
It was one of a nationwide series of fundraisers for the Alzheimer's Association to help those afflicted by the disease and their caregivers. "Most of us are playing for our loved ones," said Kiersten Hess, cocaptain of the Blondes. She and Breanna Czenczelewski, cocaptain of the Brunettes, were prime movers in starting Santa Barbara's Blondes vs. Brunettes in 2014. Czenczelewski said her grandmother died two weeks ago after a 14-year struggle with Alzheimer's.
Why football? "It's different," Czenczelewski said. "I play soccer every weekend." Said Felicia Rueff, her Brunettes teammate: "It's a brain-buster, all the strategy. We have to work really hard at it. We push ourselves beyond our comfort zone. At the end of the day, it's all about the cause."
Their commitment paid off to the tune of $80,000 raised for the California Central Chapter of the Alzheimer's Association, pushing the four-year total over $300,000. The Brunettes brought in $38,000, making them the first team to win both the game and the fundraising competition. On the field, the series is tied, 2-2.
"We were devastated last year," Ledbetter said of the Blondes' 18-14 win in 2016. "We needed to get the trophy back."
Photo Gallery
Blondes vs Brunettes Flag Football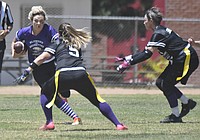 Blondes vs. Brunettes flag football fundraiser at Bishop Diego High School
Starting with the pregame tailgate party (brews provided by sponsor Draughtsmen Aleworks) and then with both teams breaking through their paper banners and standing for the national anthem, the atmosphere was true football: Players bracing at the line of scrimmage (it was nine-on-nine), the center snap sending them into motion, end sweeps, reverses and double-reverses, drop-back passes (rushing the passer was delayed by three "Mississippis"), halfback passes, penalty flags flying, VIP spectators tasting wine in the shade, and several injuries.
It got off to an inauspicious start for the Brunettes. On their first offensive series, Czenczelewski carried the ball for some tough yardage. As two Blondes tackled her, she twisted her right ankle and fell on her left hand. Her wrist was fractured, and the Brunettes had their battle cry: "Win it for Bre."
"She put so much into this game," said Lamb, a rookie who was recruited by Czenczelewski, her coworker in physical therapy. "I played soccer at San Marcos," Lamb said. "I've never played football before in my life."
Lamb turned out to be a sure-handed receiver. She had three catches for touchdowns, two in the first half to give the Brunettes a 14-0 lead. That was the halftime score after a goal-line stand kept the Blondes from scoring. The Brunettes ​— ​aka the Dark Side ​— ​made it 20-0 early in the third quarter on a long pass from Rueff to Ashley Antoon.
The Blondes came to life when linebacker Brittney Burrows intercepted a pass deep in her own territory and came within yards of a pick six, as the Blondes' Aolani Boucher sprinted after her and caught her flag from behind.
Burrrows had dyed her hair to a distinctive purple tint ​— ​a symbolic protest to "Blondes vs. Brunettes." "I don't like the idea of separating persons by their appearance," she said. "I think the team names should be raffled off to sponsors."
The Blondes cashed in the turnover when Kelly Clause and Samantha Anderson combined a three-yard TD pass. They came through with another defensive gem, Gracie Boelsems stopping the Brunettes on fourth down, to set up Clause's second TD pass, to Tessa Binkley, tightening the score to 20-14.
The Brunettes' response was a scoring drive led by Ledbetter, who hit Boucher for a long gain and then found Lamb in the end zone. The two-point conversion made it 28-14.
Late in the fourth quarter, a weaving run by Bryanna Ojeda enabled the Brunettes to run out the clock. "I played tennis at UCSB ​— ​this is not the same," Ojeda said. Her taste of football left her hungry: "I wanted to end it with a touchdown."
Foresters Players of the Week
Blair Henley and Tanner Lawson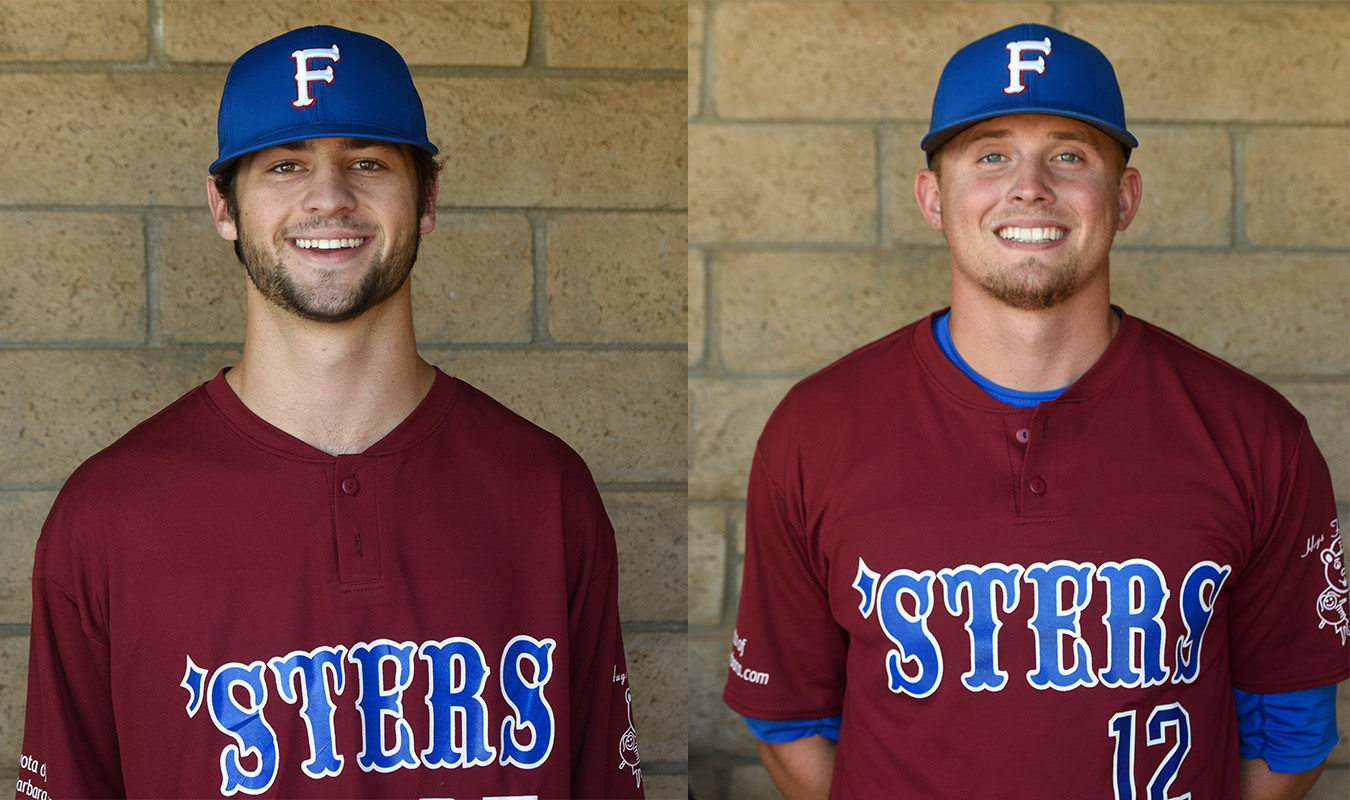 By Paul Wellman