The mature trees and hedges that line the roads and shade the homes of Old Town Goleta mark the area as a historic reflection of times past. Today's ever-present automobile is barely accommodated on streets only 40 feet wide. Residents who push strollers, walkers, or wheelchairs through the quiet area to busy Hollister Avenue to shop or catch the bus find themselves in the street half the time as some sidewalks dead end at trees or utility poles, a condition the City of Goleta will be changing soon.
A new state transportation grant of $2,224,000 allows the city to complete sidewalk improvements to the area between Mallard and Fairview avenues by 2020, instead of the 10 years previously estimated. Between then and now, however, Public Works and its contractors must work out which of the myriad trees, bushes, fences, parking areas, utility poles, and existing sidewalks are on private property or public property.
Public Works director Rosemarie Gaglione told the City Council back in January 2016 that her staff had walked the area to try to figure out how to tie a sidewalk system along narrow roads into the bus system on Hollister. They decided that connecting walkways on at least one side of the streets would be least disruptive to what had already been planted or constructed by residents. And only one tree would have to come out — a camphor at Orange and Mandarin that had been hacked to accommodate overhead wires and was in danger of splitting.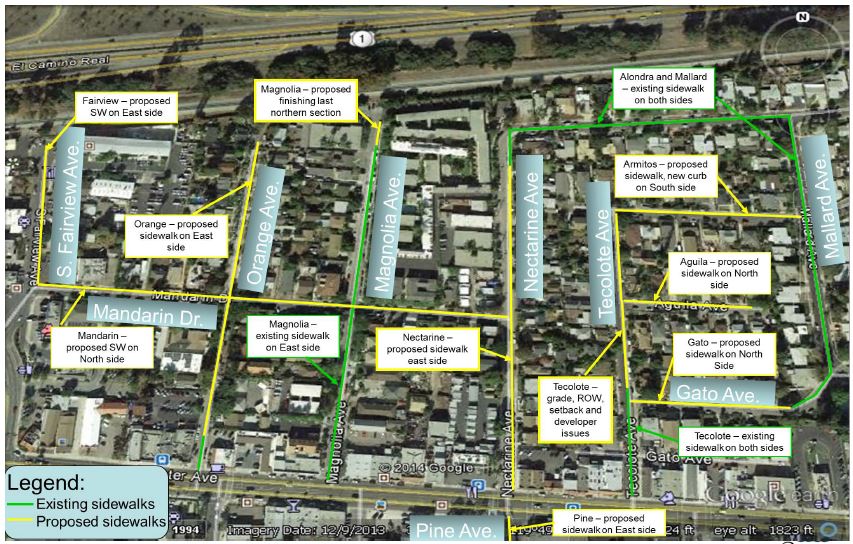 Courtesy City of Goleta