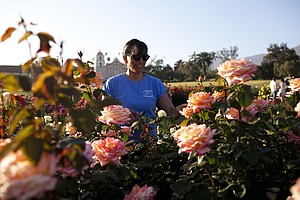 Photo: Caitlin Fitch
Going on a Santa Barbara Soundwalk
Hearing the city in a Whole New Way
Thursday, June 22, 2017
When planning our vacations and staycations, we're usually led by our eyes ​— ​there's a reason we call it sightseeing. But have you ever traveled somewhere to hear how it sounds? Your very own city may be a great place to discover soundwalking, an activity akin to wine tasting wherein you savor the notes that express one terrain. Free to anyone, all it takes is a bit of walking with your ears as well as your eyes open, though closing the latter sometimes helps.
Inspired by Re-sound, a guided walk led by artist Andrea Polli in June 2016 and sponsored by the Museum of Contemporary Art S.B., let us help you springboard your own aural map of S.B., full of human sounds and animal sounds, loud ones and quiet ones, near ones and far.
Goleta Beach
As you leave the parking lot and walk toward the sand, you depart from the chatter of cormorants and ducks and move closer to the bray of seagulls. On the pier, passersby murmur and a fisherman's daughter laughs, and then enters the booming buzz of the Goleta airport prop planes. Above and below all, the sound of the ocean — one of the most powerful sounds on earth — resonates, crashing and soothing unendingly.
By Richie DeMaria