A 28-year-old man died from a self-inflicted gunshot wound to the head last night on UCSB's campus, according to university police. They identified the man as Oscar Novoa from Santa Maria.
Officers and medics responded to reports of a single gunshot at UCSB's Parking Structure 22 on Ocean Road at about 10:30 p.m. last night. Upon arrival, officers located an unresponsive male in a white car. They found a firearm in the vehicle.
Haley Lawrence, an incoming UCSB freshman, was waiting for her mom to pick her up from a daylong welcoming orientation when she saw a male and female talking next to the parked white sedan in the structure. As Lawrence walked through the structure to find her mom, she said she heard a "popping noise" and that the girl next to the car started "freaking out." She added, "I tried to comfort her as much as I could, and my mom and I tried to get a glimpse into the car. There was blood splatter on the window."
The victim was rushed to an emergency vehicle on a gurney at 10:52 p.m. and was taken to the hospital. He was later pronounced dead.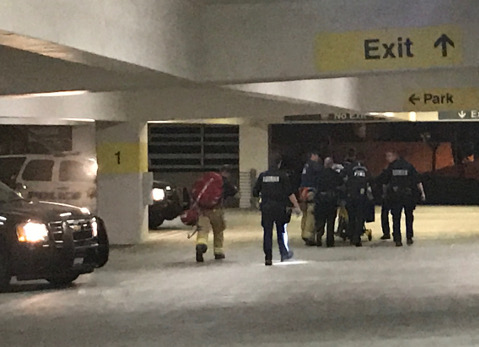 By Héctor Sánchez Castañeda