"I always wanted to be regional, but I didn't want to be provincial," says Hank Pitcher. "I'm interested in the highest level of painting."
There's never been someone more relevant, poignant, and representative of modern Santa Barbara than Hank Pitcher. The 67-year-old landscape painter is renowned not only for five decades of artistic expression but also as an inspiring UCSB professor, a subtly effective environmentalist, and a legendary athlete. His life and career are a love letter to our uniquely beautiful stretch of coastline, particularly the landscape near Coal Oil Point, where he's worked in a studio for more than 40 years just steps from his childhood home.
"I know it intimately through surfing and painting here over half a century," he says of the entire Santa Barbara coastline. "I think that knowing or having an idea about a place is important to making an authentic statement about it. A lot of Santa Barbara has grown around me."
Photo Gallery
The Art of Hank Pitcher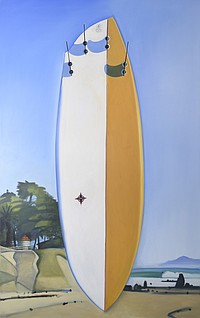 Pitcher is mostly known for his colorful landscapes, although figurative works ​— ​including his emblematic paintings of surfboards ​— ​loom large in his oeuvre, as well. His style is neither realistic nor abstract, but it shows a deep duality that is as paradoxical as the man himself.
"There are two Hanks," explains Frank Goss, who started showing Pitcher's works at Sullivan Goss, An American Gallery on May 3, 2000. "There's the football player who is expected to kick the ball. Then there's the lyrical painter of landscapes."
Pitcher's new exhibit at Sullivan Goss, which opened March 2 and runs until April 30, is called Look Out. It's a pertinent title, for that's exactly what he's been doing his entire life. "I like the multiple meanings," explains Pitcher, enjoying that the phrase can be construed as a warning as well as an action and place. "Artists either look outward or inward. I usually look out," he says. "My studio is a kind of lookout for surf, weather, things to paint. I have been fortunate to spend most of my life with a good view of the sea. Much of my work is about looking out to sea." Such searching imbues Pitcher's rich knowledge of our land and culture into his work.
By Paul Wellman