The timing couldn't have been much better. Or worse.
The very day Santa Barbara's Congressmember Salud Carbajal had scheduled a mic-dropping town hall forum to denounce the Republican bill to repeal the Affordable Care Act, the Congressional Budget Office (CBO) issued its intensely anticipated report on the same subject. The findings were extremely damning. In 10 years, 24 million fewer Americans would have health insurance if the Republicans' American Health Care Act ​— ​now dubbed Trumpcare ​— ​were enacted than if Obamacare were allowed to run its course. In just year one, 14 million Americans would fall off the insurance rolls. By 2026, 52 million would be without, worse even than during the Great Recession when a record 48 million went uncovered.
The fine print appeared even more devastating. The Republican plan, according to the CBO, would slash federal Medicaid spending by nearly a trillion dollars in 10 years, shedding from its roster nine million beneficiaries by 2020 and 14 million by 2026. Medicaid, part of President Lyndon Johnson's War on Poverty, has traditionally funded health-care programs for the poorest of the poor ​— ​single women, their kids, and the elderly. Under the Affordable Care Act, Medicaid eligibility rules were expanded to allow low-income single adults to get covered. Income limits were likewise. Under Obamacare, someone earning as much as $16,400 a year ​— ​138 percent the federal poverty level ​— ​could qualify. Before that, the cutoff was $12,000 a year.
The good news ​— ​at least to its Republican supporters ​— ​is that the CBO found the repeal bill would reduce federal spending by $377 billion over 10 years. It would have reduced it by even more, but the legislation includes about $800 billion in tax cuts. Those taxes ​— ​primarily on households earning more than $250,000 a year ​— ​had been imposed by the Affordable Care Act to pay for subsidies enacted to bring insurance premiums within financial reach for the 20 million customers who signed up over the past seven years. Under the Republican proposal, there will still be subsidies ​— ​tax rebates ​— ​but much less than under Obamacare. And according to the CBO, those Republican subsidies strongly favor the younger and the more affluent customers at the expense of older, low-income consumers.
Under Obamacare, subsidies were doled out based on income and geographic location. Under the repeal bill, subsidies ​— ​from $2,000-$4,000 ​— ​are parsed based on age instead. The Republicans took pains to maintain Obamacare's protections for those with existing health-care conditions. But their bill allows insurance companies to compensate for the greater risk posed by older customers by charging them five times more than what they charge younger ones. Under Obamacare, the age differential charge was limited to three times.
Little wonder, then, that most of the 400-plus cramming into the Santa Barbara Museum of Natural History Monday night to attend Carbajal's health-care town hall rant were sporting more than a dusting of snow at the temples. By then, the CBO report had been in general circulation several hours, and the disparate impact of the repeal bill on middle-income earners in their advanced middle ages was well known. Already, Facebook had blown up with the situation of a theoretical 64-year-old customer making $26,500 a year. Under Obamacare, this person could have secured a $15,000 health plan ​— ​with subsidies ​— ​for $1,700. Under the Republican plan, it would cost $14,600.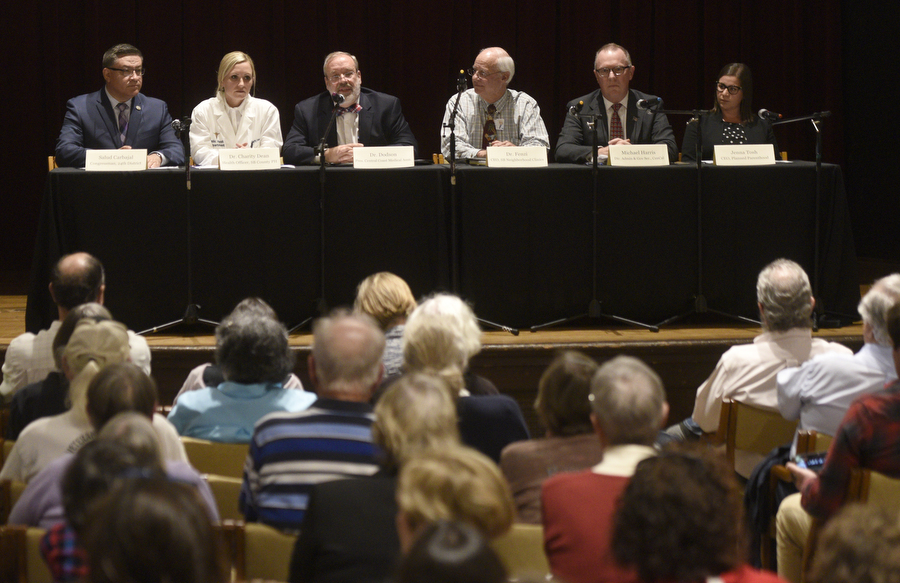 By Paul Wellman