Anyone who's taken apart one of those Russian nesting dolls can easily understand The Guilded Table. The outer shell is Santa Barbara, inside which is the Funk Zone neighborhood, and inside that is The Waterline development on Santa Barbara Street. Open it up further to find The Guilded Table, inside which are eight different craftspeople.
"It came initially from a desire to recognize that the Funk Zone has … artist roots, and that's starting to disappear," explains Kassie Goodman, who developed the concept. "So we wanted to give a nod to what this community has originally been about."
Adjacent to the shared common space, each artisan has an individual studio where they design and sell inventory, throw events, and, starting this month, hold their own workshops that are open to the community. "Brick-and-mortar retail is kind of dying," said Goodman, "so we created a concept that is more interactive, more experiential."
Here's a look at each artisan involved.
ACE RIVINGTON: Hidden in the back right corner is the secret world of Ace Rivington, the aviation-laced character and brand that Beau Lawrence created as a fusion of entertainment and fashion. "I created a character who grew up on a fishing camp in Alaska and is a modern-day private jet pilot," he said. "That's Ace Rivington. He's a machismo kind of fellow." So Ace's story is told by the apparel, which Lawrence designs based on 18 years of experience, and ranges from Italian denim to the popular crewneck sweatshirt made out a super soft homespun terry that inspired the business. acerivington.com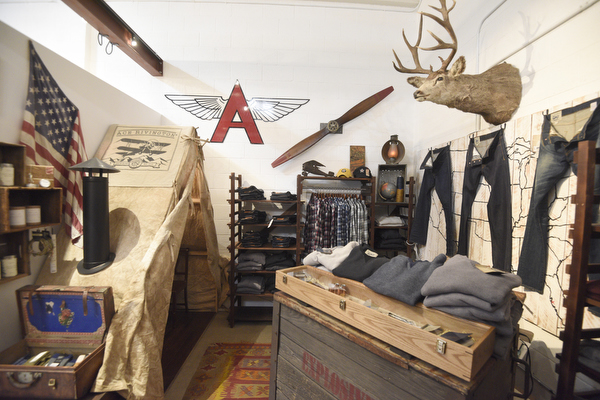 By Paul Wellman