In the midst of intense fears about President Donald Trump's expanded immigration enforcement policies, the Santa Barbara County Sheriff's Office finds itself accused of "potentially endangering Americans" for refusing to cooperate with ICE (Immigration and Customs Enforcement) holds.
"We were taken a little off guard by this report," Sheriff Bill Brown said in an interview Tuesday evening. In the document released by ICE this week, Santa Barbara County was listed among dozens of jurisdictions in the country where sheriff's officials declined to honor requests to detain immigrants beyond their local sentence.
The report focused on only a one-week period in late January. In that time, the ICE report stated, the Sheriff's Office declined to detain an inmate convicted of forgery. But Brown said his department could not identify anyone who fit that description. An ICE agent clarified the forgery charge is the individual's most serious crime, not necessarily the most recent. The reporting period represents the time frame in which ICE became aware the detainer was declined, which could happen in several ways such as the individual was rearrested by another law enforcement agency. The report will be updated weekly, ICE said.
The "noncooperation" charge comes as a surprise to many, as the Sheriff's Office works with ICE agents on a weekly basis, allowing them free access to its databases and to interview foreign-born inmates. The office, however, does not hold inmates after their cases are adjudicated, as doing so would violate California's TRUST (Transparency and Responsibility Using State Tools) Act. To his knowledge, Brown said, the same policy is true throughout the state.
Members of the immigrant community, meanwhile, have begun to gather in churches and community centers to prepare emergency plans if ICE agents should suddenly detain them. The details of each plan depend on individual circumstances, explained Diane Martinez, director of Immigrant Hope, a nonprofit offering legal services on San Andres Street. "Think about every possible situation and fill out forms to cover each one," Martinez told the 10 attentive participants on Monday evening.
One woman, who has two daughters, ages 23 and 13, asked exactly how to arrange for her oldest to take care of the youngest should she be forced out of the country. Another asked if she could take her small child with her if she were deported. Another woman wanted to know if she should seek dual citizenship for her child born in America.
Martinez went through a list of safety measures: Make copies of your marriage certificate, work authorization forms, and passports; talk to your employer about allowing someone to pick up your paycheck; add a second person to your bank account.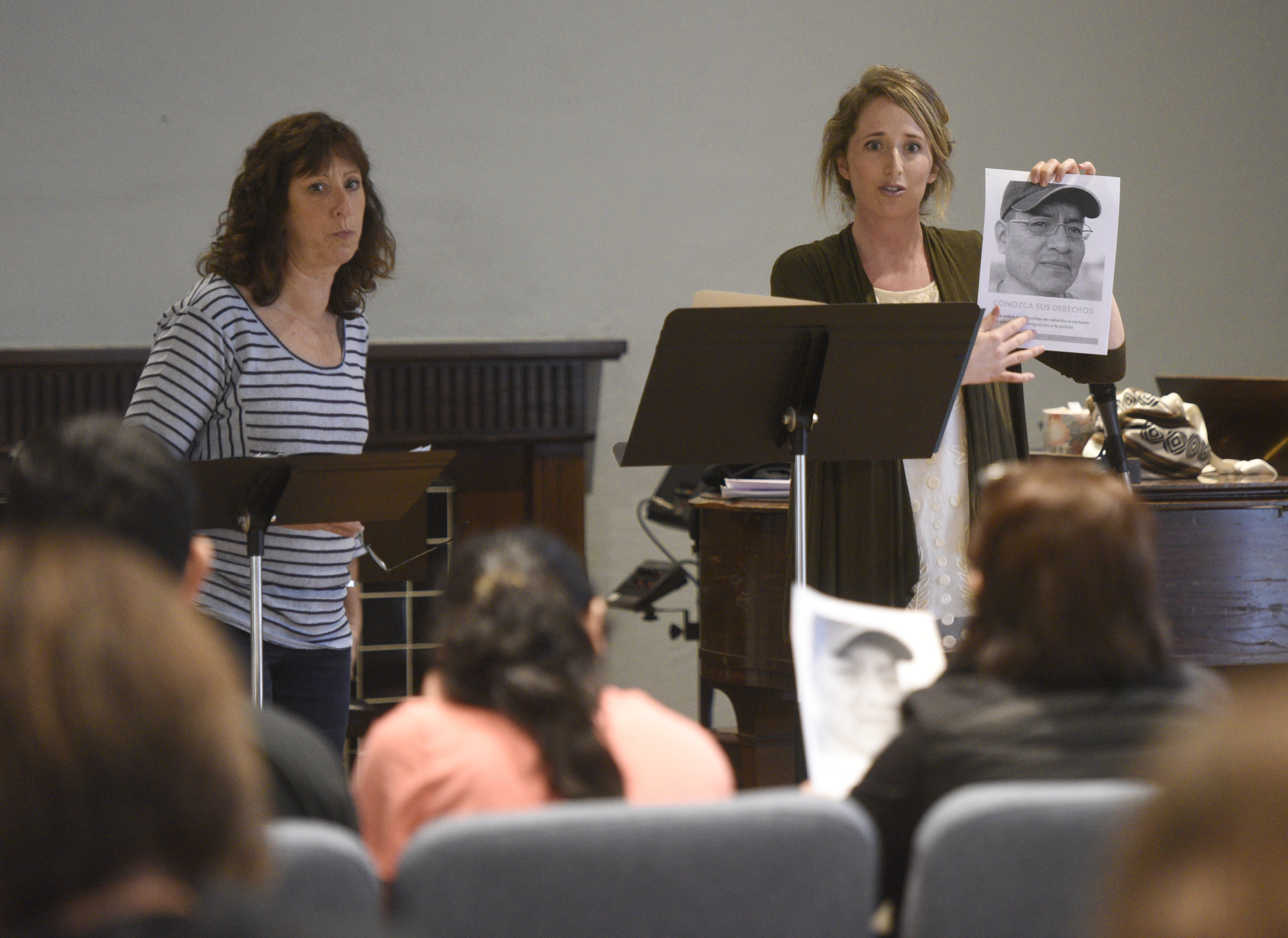 By Paul Wellman