Santa Barbara Congressmember Salud Carbajal made yet another statement from the House floor on Friday, denouncing the Republicans' health-care bill, but he never got a chance to vote against it. That's because President Donald Trump and House Republican leader Paul Ryan pulled the American Health Care Act before Congress could act on it, knowing it lacked the votes needed to pass.
The bill failed because of unanimous opposition from Democrats coupled with defections by two key factions within the Republican Party. One — the arch-conservative Freedom Caucus — objected the Republican bill did not go far enough in dismantling Obamacare; the other, the more moderate Tuesday Group — objected it went too far. Neither Ryan nor Trump — who touted his prowess as consummate dealmaker during his campaign — could muster the necessary votes in a last-minute frenzy of intimidation, charm, and emotional cajolery. Nor did it help that the bill — which enjoyed a national approval rating of only 17 percent — had been opposed by every mainstream organization representing doctors, hospitals, and health-care advocates.
Rather than call for the vote — as President Trump had vowed to do the day before — the American Health Care Act was tabled indefinitely. Carbajal, never shy about criticizing the bill — called Friday's non-vote "a victory for the American people," but cautioned, "It's a near-term, short-term victory, but it's not necessarily final." Procedurally, Ryan can bring the bill back if and when he thinks he has the votes. But given the intensity and intransigence of the opposition, that's not expected any time soon.
For Trump and Ryan, Friday's action marks a political setback of epic dimensions. Both had made "replace and repeal" a centerpiece of their legislative agendas. Republicans had introduced at least 60 bills to repeal the Affordable Care Act since its passage seven years ago. Ryan explained Republicans are still adjusting to "the growing pains" attending the transition from being an opposition party to being the party with a majority in the House, Senate, and White House.
Carbajal, however, credited the intense backlash to the Republican health-care plan that erupted in town hall meetings in every congressional district of the country coupled with a tsunami of letters, phone calls, and emails. "The American people roared and it made a difference," he said. "Don't stop calling. Don't stop speaking out." Even with Carbajal's opposition in the bag, more than 400 people packed a town hall forum he organized in Santa Barbara on health care two weeks ago. Carbajal's offices received 3,187 calls, emails, and voicemails on the Republican health care proposal. Of those, 99.98 were opposed. Only 73 were in support.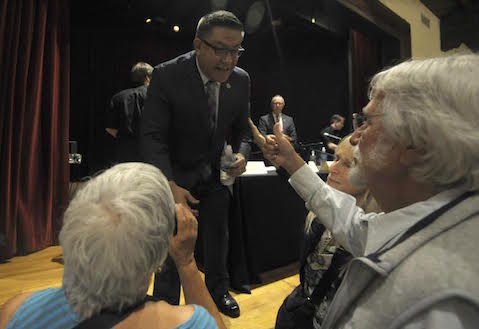 By Paul Wellman (file)