Saturday, April 29, at the Page Youth Center was like any other Saturday at the city's most popular destination for parents and school-age children. The parking lot overflowed with family cars, SUVs, and vans, and the bases of the ball fields were loaded by Little Leaguers. Yet something was different; there was an unusual new sound coming from inside the big main room of the recreation center. Instead of the squeaking of athletic shoes on polished wood, the steady rhythm of basketballs being dribbled, or the sporadic applause of a crowd following a close volleyball game, there was music. Classical music.
Entering through the center-left door between the bleachers, I saw a large half-circle of folding chairs set up on the court and, seated in them, close to 200 young people between the ages of 8 and 18 holding and playing musical instruments. What's more, while the majority of the spectators sat facing the action in the bleachers, just as they would at a sporting event, there were several dozen parents and siblings who had chosen seats alongside the players in this jumbo-sized orchestra. They were on the court with their children instead of cheering them on from the sidelines.
The idea for this novel approach to concert seating came from Santa Barbara Youth Symphony conductor Andrew Radford, and in between the Bach and the Beethoven, he commended those who had chosen to break the fourth wall and enter the playing space. After the traditional conductor's rite of acknowledging his section leaders and soloists, Radford spoke to the audience, thanking all the friends and family for being there and calling attention to the ones who had taken their seats in the orchestra with the students. "I call that being in the middle of the sound," he told them, "and it's something I recommend that everyone try because it's a very special experience to be inside the music." "That's why I do this," he added, raising both hands in a classic conductor's pose, "because I love to be in the middle of the sound." Maestro Radford and Marisa McLeod, the conductor of the Symphony's Junior Orchestra, then led the entire group in two short pieces to conclude the program: the "French Folk Song," immortalized by Volume 1 of the Suzuki method, and the "Ode to Joy" from Beethoven's Ninth Symphony.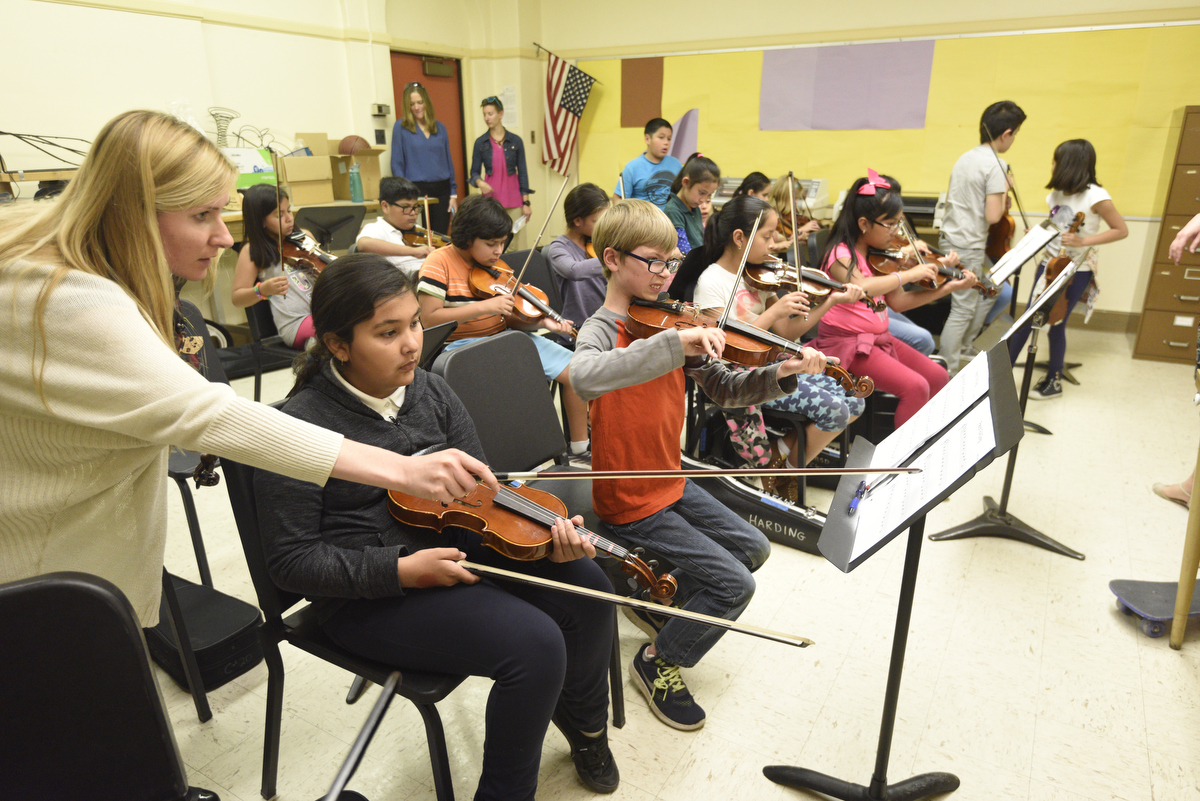 By Paul Wellman