At long last, the popular Santa Barbara Foresters have a place to call home plate this summer. The six-time champions of the National Baseball Congress will begin their 27th season on June 9 at Pershing Park, a bit of a fixer-upper at a prime location near the waterfront.
Bill Pintard, the Foresters' manager and executive director, basked in the love of the community last Friday at a housewarming ceremony on the Pershing Park diamond. Numerous officials extolled the arrangement that will give the town's baseball fans a special place to gather this summer and hear the sounds of wooden bats swung by college players from California to Louisiana. Kids can get autographs from potential big leaguers, and youngsters fighting cancer can go on fun-filled outings through the club's Hugs for Cubs program.
Pintard expressed gratitude to everybody who worked to give the Foresters a home after UCSB canceled their long-lasting rental of Caesar Uyesaka Stadium. The city-owned park is shared by SBCC, which hosts a playoff baseball series there this weekend, and Major League Softball. Pintard described their cooperation as "what makes a champion." He singled out Rich Hanna of S.B.'s Parks and Recreation for guiding the process.
All that good stuff resulted from UCSB's sending the Foresters packing, but Pintard bears a grudge over his club's eviction. "They just don't want us," he said last week. "It put our 2017 season in jeopardy. We were unhappy to leave."
UCSB Intercollegiate Athletics Director John McCutcheon said the Foresters were told more than a year ago that their tenancy would end following the 2016 season. The reason given was that year-round use was putting wear and tear on the facility, and the cost of maintaining and repairing it exceeded the rental payments.
Gaucho baseball coach Andrew Checketts backed up the decision. "By the time we get on the field [in the fall], it has not had enough recovery time to be in good shape for the season," he contended. "There are safety issues with the ball jumping up and hitting kids in the face. It's not suitable for a competitive Division I program."
Baseball has been among UCSB's most competitive sports, although the Gauchos are struggling this year. In the six years since Checketts became head coach, they have qualified for the NCAA tournament three times, and last year they reached the College World Series. The university has tried to parlay that success into fundraising for several needed upgrades to its baseball facility.
Checketts said he has enjoyed watching Foresters games and wishes them the best at Pershing Park. He confessed that he and Pintard have had a rocky relationship since Major League Baseball's 2015 amateur draft. The New York Yankees, for whom Pintard is an area scout, selected UCSB's Paddy O'Brien in the 24th round and signed him as a pitching prospect. O'Brien, who hit .391 as a designated hitter for the Gauchos, was a redshirt sophomore with two more years of eligibility.
"That's a reason for our relationship being strained," Checketts said, "but it's not the reason the Foresters are moving."
Checketts pointed out that the only Division I college ballpark on the West Coast with a regular summer tenant is Oregon State's Goss Stadium, where the field is fully surfaced by artificial turf. The Corvallis Knights play there in the summer months. They are named after their primary sponsor, Penny Knight, the wife of multibillionaire Nike founder Phil Knight.
The Santa Barbara Winfreys, anybody?
There's no reason to choose sides between the Foresters and the Gauchos — or Westmont's Warriors, SBCC's Vaqueros, the high schools, and the youth leagues, for that matter — if you like baseball. Think of all the hours you'd spend watching Dodgers games, if they were available on TV, and spend some of them at a ballpark near you.
Besides SBCC's regional playoff games, UCSB will host UC Davis in a Big West Series this weekend. The Gauchos, just 5-7 in the conference, managed to pull out a 6-5 victory in Sunday's game at UC Riverside, thanks to freshman center fielder Tommy Jew, who scored the winning run after a ninth-inning triple and made a game-saving catch for the final out.
Twin Tennis Triumphs
With a pair of 4-1 victories in the Big West finals at Indian Wells — the men over Cal Poly and the women over top-seeded Hawai'i — UCSB's tennis teams will both be advancing to the NCAA tournament. The Gaucho men (19-5) have won 12 consecutive matches. The women are 17-9. n
Game of the Week: College Baseball
5/5-5/6: Cypress at Santa Barbara City College SBCC, making its seventh consecutive appearance in the Southern Cal Regional playoffs, opens with a best-of-three series at home. The No. 6–seeded Vaqueros (23-16 overall) took first place in a tight Western State Conference North race with a 13-7 record. The Cypress Chargers (27-13) are seeded No. 11 out of the Orange Empire Conference. Kyle Wade (6-3 record, 3.04 ERA) leads the SBCC pitching staff, while reliever Steven Elliott is 6-1. Freshman third baseman John Jensen is hitting for a .346 average with 20 RBIs. Cypress features one of the top pitchers in the state: sophomore right-hander Andrew Quezada (8-1 with a 1.08 ERA). Fri.: 2pm. Sat.: 11am (and, if necessary, 2pm). Pershing Park, 100 Castillo St. $8-$12. Call 730-4076.
S.B.

Athletic Round Table Athletes of the Week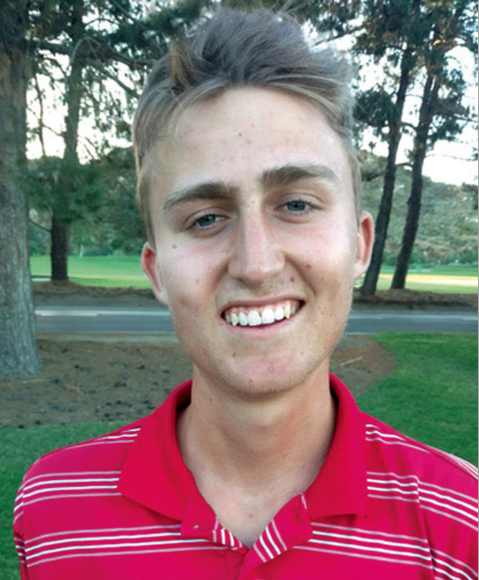 By Courtesy Photo