The good news is that Santa Barbara County's unemployment this March was only 5.2 percent, down from 5.5 percent the previous month and 5.6 percent this time last year, and way down from 10.5 percent during the depths of the recession. The bad news, however, is that Santa Barbara's numbers are slightly higher than the state of California's, 4.9 percent, and that of the nation, 4.6 percent.
Aside from the statistics, there are bigger, more compelling questions that have yet to be resolved, according to Peter Rupert of UCSB's Economic Forecast Project. For example, what impact will the immigration policies of the Donald Trump White House have on North County farmworkers, already in notoriously short supply given the dramatic drop in immigrants crossing the Mexican border in recent years? That same question mark hovers over the South Coast's hospitality industry, where thousands of immigrant workers fill vital "back of the house" functions.
At the same time that the state's new minimum wage is starting to take effect, Rupert reported that salaries for some occupations are starting to increase somewhat, reversing the chronic, mystifying trend of wage stagnation that had defined county labor markets for so long. As additional increases in the minimum wage take effect ​— ​eventually bumping it from $10.50 to $15 an hour ​— ​Rupert said he expects Santa Barbara restaurant operators to shed labor costs by transitioning away from waiters to counter service. In places like New York, some restaurant owners are doing away with tips altogether, incorporating tip revenues into the cost of the meal and sharing the proceeds with other kitchen staff. To date, Rupert said, he's seen little evidence of Santa Barbara owners following suit.
Writ large ​— ​and with all the statistical caveats acknowledged ​— ​the total number of non-farm jobs in Santa Barbara County appears to have increased by about 3,800 since last March. Modest but significant gains were reported in the realm of government, education, tourism, hospitality, professional management, services, and engineering. Legal professional jobs flatlined; oil mining dropped. The number of retail jobs fell, as well.
Wage and occupation reports constitute a statistical selfie into the state of the local economy, bursting with intriguing details. Some are so aggregated as to defy immediate application to the economic realities experienced by most people, but they provide a useful barometer of the economy nonetheless. In terms of take-home pay, the picture is marginally rosier. The average hourly wage went from $18.04 an hour to $18.22. The mean annual pay moved incrementally from $51,390 to $53,090.
Some of the stats in such reports are merely curious. For example, the number of CEOs increased by 10 countywide between 2015 and 2016, and their annual mean compensation ​— ​not counting stock options and other bonuses ​— ​remained flat at $213,000. The number of clergy plunged from 76 to 50 in the past year and their annual pay dropped from $76,000 to $64,000.
In the world of media, the number of reporters and correspondents dropped from 60 to 50 in the past year, and the pay ​— ​in apparent contradiction of the laws of supply and demand ​— ​dropped from $42,970 to $38,310. By contrast, the number of public relations practitioners dropped far more modestly ​— ​from 210 to 190 ​— ​while compensation increased from $63,000 to $66,820.
In health care, home care attendants saw their numbers drop from 620 to 530 and their pay go from $28,820 to $25,890. The ranks of doctors offering general practice services decreased from 190 to 170, but their pay went up a smidgen by $1,000 to $217,000.
The biggest gains ​— ​in both pay and numbers ​— ​seemed gravitationally inclined toward those professions dealing with construction and real estate, reflecting the hotter pace of residential development now taking place. At the lower end of the economic ladder, the number of dishwashers went up by about 130 while their pay inched up from $21,000 a year to $24,000. The number of janitors dipped slightly ​— ​to 22,670 ​— ​and their pay bumped up $100 to $30,050. The same trend took place with maids and housekeepers. Their numbers dipped by 200, but their pay went from $24,580 to $26,710.
These numbers could prove problematic, given new gender equity legislation that requires comparable pay for comparable work. Many occupational scientists regard housekeeping and janitorial work as requiring comparable skill sets, but housekeeping is largely a female occupation, while janitorial services are dominated by males.
The following snapshots are intended to shine a light on potentially interesting and rewarding occupations for anyone seeking to navigate their career course. —Nick Welsh
Beth Lazarus
Police Officer, Beat Coordinator // Santa Barbara Police Dept. // 11 years
by Jean Yamamura
What was the scariest thing about your job when you first started? There's kind of a love-hate relationship with the job. Every day is different, which is my favorite part, but that can bring up the unknown, which can be the worst part. On duty or off duty, you just don't know what might happen. We all signed up for this, so there's no ambiguity that things can happen.
What did you like best when you began? What do you like best now? You kind of get to be your own boss. When the call board isn't stacked with requests for service, you can decide to walk through the park to check things out after you've let dispatch know first. Or you can sit at a stop sign at an intersection that's been bugging you. And you can interview to join special divisions, like crime scene investigation or narcotics.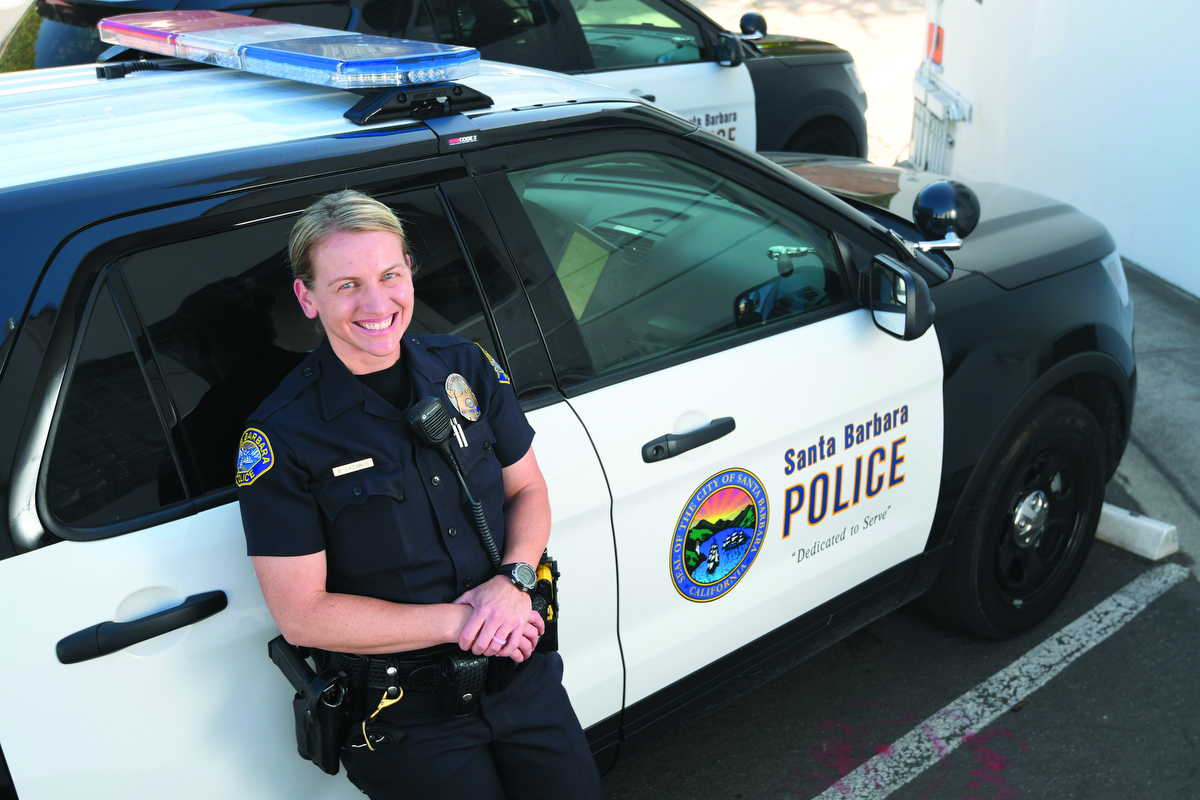 By Paul Wellman