While I waited for my first Pops Orchestra at UCSB rehearsal to begin, I remember nervously fiddling with the keys of my tenor saxophone. It had been three years since I had last played, and I missed that electric feeling. As one of the student conductors stepped up to the podium with his baton, the 60 musicians soon began to fill the room with the swelling melodies of a Harry Potter movie medley, and my nervousness fell away.
As a political science and philosophy double major at UC Santa Barbara, for someone like me, few opportunities come along to play music. The Music Department's orchestras and jazz bands offer spots to non-music majors, but winning a seat requires considerable skill and keeping it takes significant practice time — neither of which I had. Pops Orchestra founder and current Co-president David Nakazono helped to change that by creating an orchestra open to everyone interested in playing lively music with passionate people.
Nakazono first got the idea during fall 2014 when he learned the Music Department's orchestra had no need for trumpet players for the pieces they were playing that quarter. Nakazono had played in the formal orchestra every quarter as a trumpet music performance major before that, and he suddenly found himself with much more free time. "Orchestral music is my favorite genre, and so I wanted to figure out how to fill that hole in the quarter," he said. "It gave me the idea of starting another orchestra where we could play really fun music from movie soundtracks or video games." With some helpful guidance from UCSB Music Professor Christopher Rountree, Nakazono set his plan in motion.
Starting out, he had only 10-15 musicians and no designated practice space. They had to bounce around from classroom to classroom to rehearse, which became a problem because, as Nakazono said, "You just can't play cello at a desk." But after bringing on key leadership members, gathering arrangers to write customized pieces for the eclectic assortment of instruments, and finally landing a suitable place to practice, the group became a full fledged orchestra with 60-plus musicians. According to lead arranger and future co-president Tristan Dario Perez, the organization is entirely student run. "We write the music; we teach the music we conduct. We organize the rehearsals, and we get the spaces. We manage all the money and invest in all the equipment."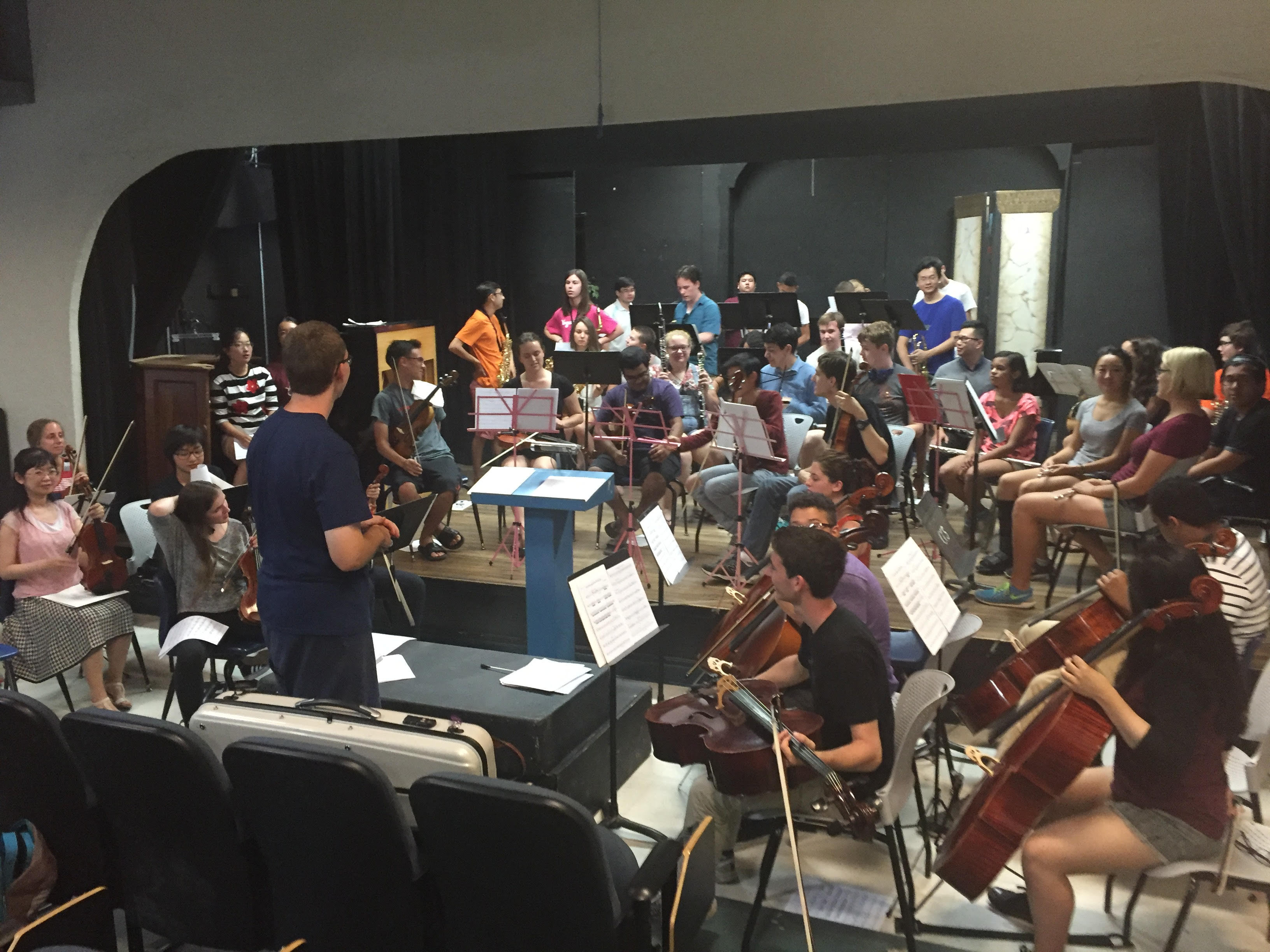 courtesy