With knees too worn down to absorb the shock of running, I turned to cycling as my primary physical activity. It served a practical purpose — as a healthy way to get around town running errands, and it also gave me the sense of a sporting challenge. I succeeded in meeting the perils of the road until a year ago, when I rode into the wet and rutty Castillo Street underpass. The resulting crash put me on the DL (disabled list) for three months with two cracks in my pelvis.
During my recovery, I encountered a young woman on crutches and asked her what happened, and she described the same thing that happened to me. An experienced cyclist, she was setting out on a ride to Ventura and took the bike lane on Castillo Street toward the waterfront. She entered the underpass slowly and carefully, she said, but her bike went down on the slippery cobblestones. Her helmet was cracked as well as her pelvis.
The condition of the underpass, which sits below the water table, has been a chronic problem. Caltrans is responsible for the road and has failed in all its attempts to remove water from the surface. The cobblestones have proved to be the least satisfactory solution, being downright dangerous to cyclists. The agency is said to be addressing the issue in the near future. In the meantime, there is a sign advising cyclists to dismount their bikes and walk through the underpass. I choose to avoid it entirely, with a skull-and-crossbones sign in my mind. State Street is a safe detour.
During this month of CycleMAYnia, I commend the safety tips recently put out by the police department, for both cyclists and motorists: Ride and drive focused; expect the unexpected; always wear a helmet or seat belt; know the rules of the road; show mutual respect.
I learned a long time ago the danger of being distracted while riding a bike. I was on my way to a class at UCSB when a comely coed (aren't they all) caught my eye. The next thing I knew, I was flying over the handlebars, as my front wheel made a direct hit on a post in the middle of the bike path. "Are you all right?" she asked. Instead of lying there, accepting her ministrations and getting to know her better, I leaped to my feet and pedaled off on my bike, its frame now bent, and my forearms bleeding. I made it to my class and never saw her again.
I did thereafter always focus on the road ahead of me, taking special care to steer clear of the stanchions that divided the lanes at the entry points of area bike paths. In recent years, the county has removed those obstacles, which seemed more hazardous than useful.
There are plenty of other obstacles to watch out for. Sharp-edged debris is common at curbsides throughout the town: broken glass, nails, screws, nuts, bolts, razor blades, fuel caps, tools, rocks. I sometimes stop to remove them, like the paring knife I recently claimed.
The most clear and present danger on city streets is motor-vehicle traffic. I've seen enough drivers on their cell phones behind the wheel to be wary of every vehicle around me. I implore them to use their signals before turning in front of me. If they have the right of way at an intersection, I want them to take it, keeping the traffic flow orderly and predictable. Not so predictable are cars exiting driveways and doors opening on parked cars.
Of course, cyclists bear their share of responsibility. I hate to see them running red lights in the absence of cross traffic. I take issue with groups of riders who refuse to travel in single file on narrow bike lanes, forcing drivers to slow behind them lest they violate the three-feet clearance rule. An oncoming cycling club recently took up the entire width of the Goleta Beach bike path and forced me to the edge of the pavement to avoid a head-on collision.
I might have taken such incidents as a sporting adventure in the past, but now I'm getting too old for it.
Tour of Pain and Glory
Riders in a professional cycling race like the Amgen Tour of California can enjoy racing on roads that are closed to normal traffic, but they face other risks related to speed and close contact with their competitors. I felt the pain of Latvian rider Toms Skujins when he crashed during a rapid descent in Stage 2, resulting in a concussion, severe road rash, and a collarbone broken in five places. It happens to the best of them.
Stage 4 got off to a smooth start on Cabrillo Boulevard last Wednesday. It ended 99 miles later in Santa Clarita with America's Evan Huffman striking a blow for the little guys. Riding for Rally Cycling, which did not have the prestige of being a World Tour–classified team, Huffman led a breakaway group across the finish line, much to the surprise of the big-name riders in the pursuing peloton. Usually, the peloton stalks the early leaders like a hungry beast, inevitably catching them in a state of exhaustion, chewing them up and spitting them out.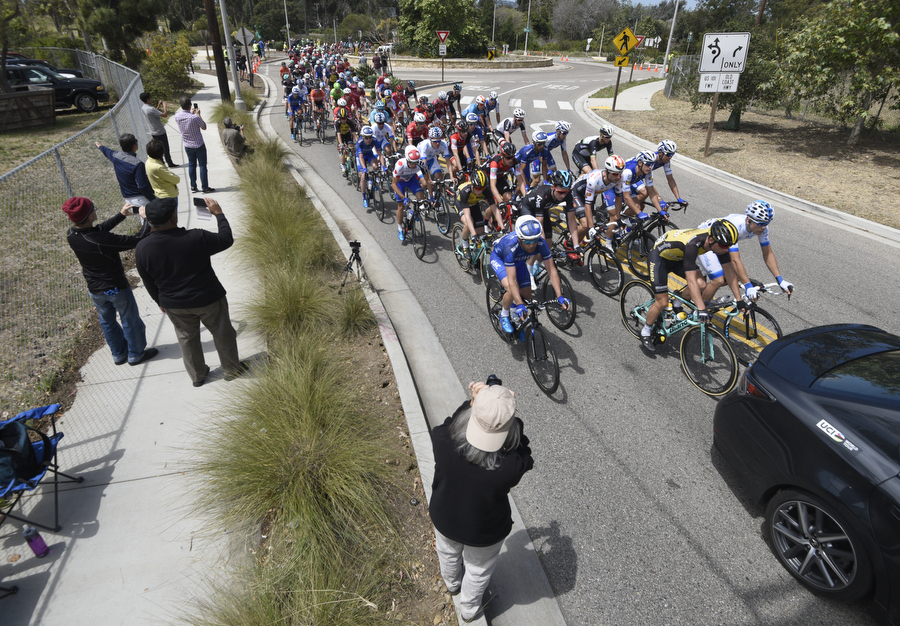 By Paul Wellman