This Tuesday's courtroom drama over embattled landlord Dario Pini called to mind the old joke, "How many lawyers does it take to screw in a lightbulb?" The punchline was not as obvious as "It depends what their rate is," but there were no less than 12 attorneys making their case before Judge Colleen Sterne over what at first blush might appear an intense but highly procedural squabble. The stakes, however, are exceptionally high and involve Santa Barbara real estate worth $62 million.
City Hall is pushing to have 12 properties — two vacant hotels, nine rental complexes, and Pini's personal residence — legally stripped from Pini's control so that the rents collected can be used to bring the structures up to health and safety codes and relocate the tenants, if need be, in the meantime. City Hall claims Pini's long history of health and safety violations renders his property unsafe for his tenants. As a remedy, City Hall is arguing that the properties be turned over to a court-appointed receiver, who would be empowered to use the rental properties to secure loans, if need be, to cover the costs of remediation and tenant relocation.
On paper, Tuesday's legal wrangling was all about calendar management. Pini and his attorney Paul Burns were demanding more time to take depositions and prepare for the final showdown over whether a receivership is warranted, and if so, who should it be. Santa Barbara City Attorney Ariel Calonne urged Judge Sterne to act sooner rather than later. "We are trying to manage the unmanageable," he said, warning of dire consequences should Pini be allowed unfettered opportunity to interview witnesses and collect written statements. "This is going to turn into a full blown food fight for want of a better word."
Ultimately, Judge Sterne ruled in favor of later rather than sooner, but her reasons had little to do with Pini's arguments. First and foremost, she noted, it's a highly complex litigation, involving not just Pini and City Hall — longtime antagonists — but the five major financial institutions that lent Pini the money to purchase the properties in question.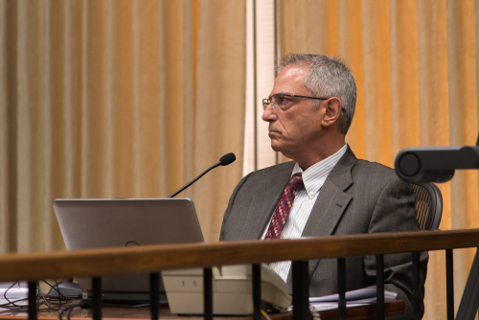 Brandon Yadegari (file)