Pop stars don't come any cozier than Khalid, the 19-year-old from El Paso whose young fans packed the Santa Barbara Bowl on Wednesday night, August 30. He's cool in all the right ways without having to front as dangerous, no mean feat in a music world often dominated by artists boasting about drugs, booze, and beefs. He opened a hit-strewn set with "American Teen," the title track from his only album, and breezed through another 16 numbers before ending at a school-night-friendly 9:20.
Photo Gallery
Khalid Plays the Santa Barbara Bowl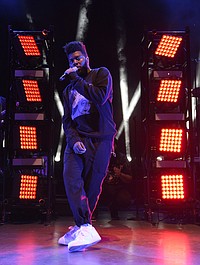 Khalid plays the Santa Barbara Bowl (August 30, 2017)
The apparent contradiction of Khalid's unusual "mature teen" persona melted away as the artist, his band, and his dancers poured out an updated version of the new-wave funk first popular in the 1980s. Even with his distinctive bushy top fade and mustache-less goatee, the singer still manages to project the high school homie vibe that's made him a favorite with American teens everywhere. Highlights of the set included "Cold Blooded," "Location," and "Rollin," the track that he and Future contributed vocals to on Calvin Harris's summer smash album Funk Wav Bounces Vol. 1. If at times his mic technique made it obvious that backing tracks supported his vocals, that didn't seem to matter to the thousands of entranced kids who showed up for this high-spirited night of familiar grooves and positive vibes.