If it weren't for Wandering Dog Wine Bar in Solvang, it's possible that a number of beloved Santa Barbara wineries ​— ​Dragonette, Kaena, Transcendence, and Blair Fox, to name a few ​— ​wouldn't be the successful operations they are now.
That's because husband-and-wife proprietors CT and Jody Williams poured their wines before most anyone else, giving emerging brands a platform to build fans and evolve to the next level. Many of those winemakers, including Mark Horvath of Crawford Family Wines, Joshua Klapper of Timbre, and Norm Yost of Flying Goat, continue to show their appreciation to the Williamses by producing a custom bottling each vintage, which they sell through the shop under the Wandering Dog brand.
Today, a decade since opening their wine bar in 2007, the Williamses are finally getting into the commercial production game themselves. But they're not merely making wine ​— ​under the name of Broken Clock Vinegar Works, they're making vinegar and an eclectic line of shrubs: the fruit-, sugar-, and vinegar-based elixirs of ancient history that give a complex, tangy bang to beverages both alcoholic and otherwise.
"I've spent 15 years telling everyone I didn't want to be a winemaker, and now …" said CT with a laugh earlier this year, while he was pursuing the license to turn grape juice into vinegar, which is a few fermentations further than wine. "It really takes just as much work to make a really good vinegar as it does to make a good wine."
The couple ​— ​CT and Jody were both raised in the Santa Ynez Valley, both got into the wine industry at age 22, and met at the Carina Cellars tasting room in 2004 (he hired her) ​— ​first tasted shrubs at the bar of The Landsby, across the street from Wandering Dog. "It was so good," recalled Jody, who learned that shrubs were historically a means of preserving fruit prior to refrigeration. "It was the most refreshing and interesting drink."
So on Christmas Day of 2015, they made their own lemon shrub, using equal parts juice, sugar, and vinegar. It was good, so they started experimenting with various fruits ​— ​pomegranate, strawberry, peach, blueberry, kiwi, etc. ​— ​mostly sourced from their garden, which is just a couple of blocks from the wine bar. "Our kitchen looked like a science laboratory for a while," said CT, recalling the sugar trials they conducted. "We explored different flavors, like strawberry-ginger. That's one of the ones that convinced us."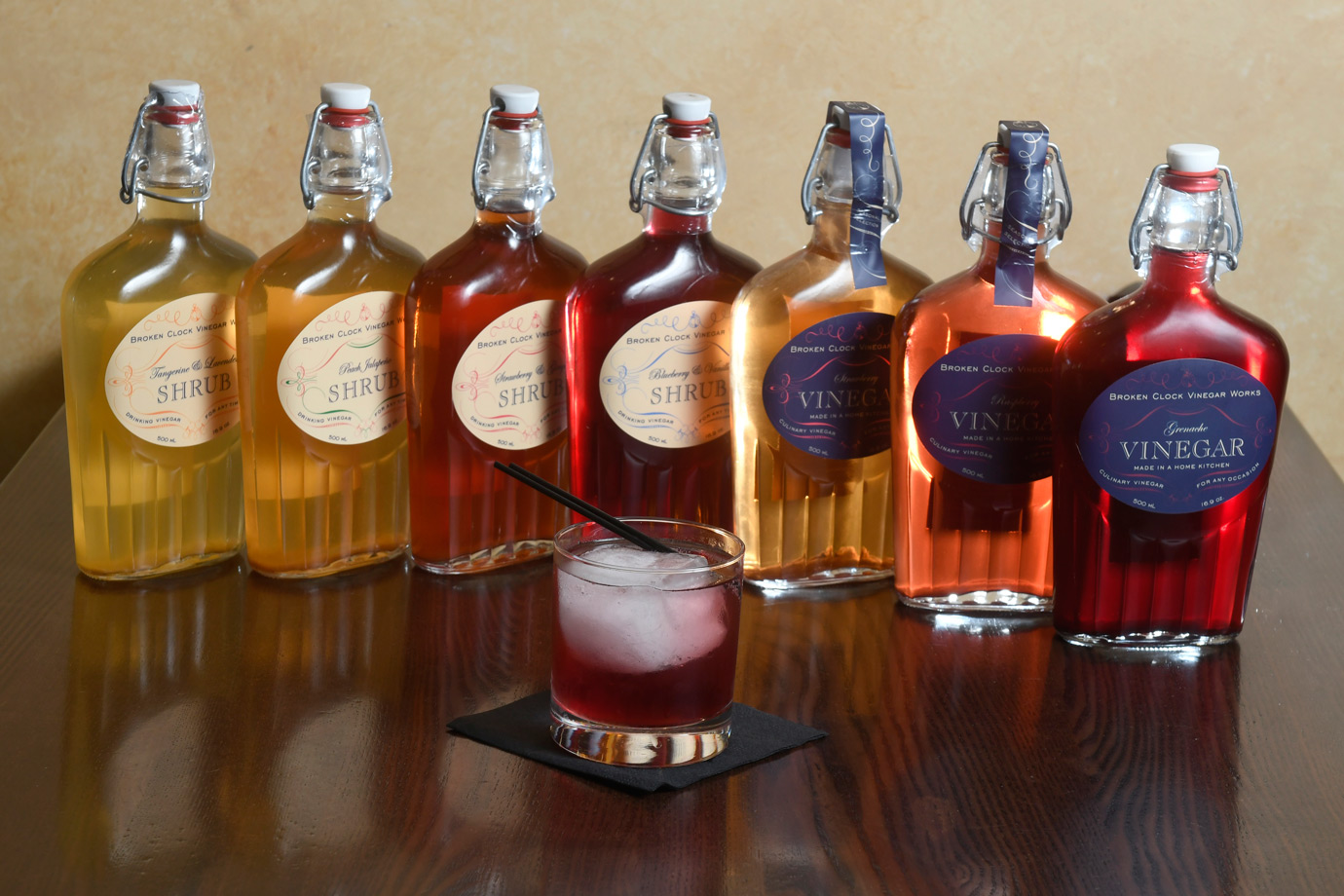 By Paul Wellman