The contest for the District 5 seat on the Santa Barbara City Council pits Eric Friedman, a longtime county aide, against Warner McGrew, a former city fire chief. Both are Democrats, boast impressive résumés, and enjoy the backing of big-name supporters and donors. Their district, which covers the San Roque, upper State Street, and Hidden Valley areas, contains an eclectic mix of apartment housing, middle-class homes, and large estates, as well as the northwest end of the city's commercial corridor.
Here, they answer the Santa Barbara Independent's questions on important election issues. Some of their answers have been edited for length and clarity.
Friedman and McGrew will also speak on their city government views and ideas during the District 5 Discussion hosted by the Independent on Wednesday, October 4, from 6 to 7 p.m. at the MacKenzie Park Adult Building (3111 State St.). The event is free and open to the public. Reserve tickets at sbindytickets.com.
Ballots will be mailed to voters October 9.
What are District 5's top three issues?
Eric Friedman: Infrastructure and traffic circulation; housing and neighborhood preservation; the future of LaCumbre Plaza.
Warner McGrew: Economic sustainability; AUD [Average Unit-size Density] and ADUs [accessory dwelling units]; public safety, which includes homelessness.
What are Santa Barbara's top three issues?
EF: Water security; affordable workforce housing; economic development, in particular the future of downtown.
WM: Economic sustainability; homelessness; workforce housing.
How would you balance the interests of District 5 with the interests of the whole city?
EF: For 14 years I worked as a staff aide in the 1st District County Supervisor's office. This is the same district system we now have in the city. Using my background and experience at the county, I will look at the long-term vision and overall perspective of the city as whole when developing public policy goals and initiatives. At the same time, I will advocate for the 5th District when moving to implement the new city vision.
WM: As an experienced department head and manager in this city, I have the proven insight and ability to provide quality government service to both the 5th District and the city at large. I will be responsive to the issues and concerns of the 5th District while balancing the needs for the entire city.
How would you engage with your constituents, and how would you collaborate with your council colleagues?
EF: I will have an open-door policy to establish a responsive, transparent, and more accountable City Hall. This includes timely responses to individual contacts from the public, as well as hosting office hours in public places within the 5th District and attending community events and forums. Building relationships with the other council members and the mayor will come from keeping the perspective that we are all one city and need to implement a vision that serves all residents who live here. I think of Santa Barbara as the biggest small town you could live in. Personal relationships are critical to get things done.
WM: During my 47 years of leadership in government for this city and region, I have earned the reputation of being an accessible leader who approaches issues with an open mind. I value the input of our citizens and will always remain open and accessible to my constituents. I will continue to support transparency in city government and will direct city staff to continue its efforts in public outreach and education. I will continue to work with my colleagues on the council, and I will support healthy relationships and dialogue to bring the councilmembers together to address the challenges that face our city.
What new projects or initiatives would you like to spearhead?
EF: While working at the County, I was a lead staff on the issue of Community Choice Energy. The work we did to help get it off the ground by partnering with multiple jurisdictions from San Luis and Ventura counties to conduct a feasibility study needs to continue. For the 5th District in particular, I want to look at new uses for the abandoned army facility on the corner of State Street and Las Positas Road. Transforming this property from an abandoned building to a community asset would truly enhance the uptown area.
WM: I plan to address the revitalization of our business communities, preservation of our neighborhoods, enhancement of our arts and cultural districts, and improvement of our public safety to include enhancements to our sub-par 9-1-1 cell-phone emergency call system.
How would you work to ease the housing shortage?
EF: While the State of California requires us to build our share of housing, we must also recognize that we will never be able to build enough units to satisfy demand. In order to reach our state mandate and not lose local control of our planning process, we need to modify the AUD ordinance to make sure any new units meet the needs of our community. This includes looking at long-term covenants to ensure rentals remain rentals; the elimination of excessive amenities, such as those at the Marc, which drive up the cost; and implementing a mix of both market-rate and affordable units. It also means reversing the premature decision of the current council that limited this program to 125 units per year. In addition, we must invest in alternative transportation that connects commuters from Ventura and North County to their jobs.
WM: Work with the Community Development Department to streamline the process to provide user-friendly customer service. Promote the influx of workforce housing in the downtown core of the city. Support ADUs while preserving family-oriented neighborhoods, and enhance the downtown State Street area to accommodate a multimodal transportation system.
What steps would you take to preserve Santa Barbara's history and character?
EF: We owe a debt of gratitude to previous generations who created Santa Barbara's iconic architecture and commitment to an incredible urban landscape. The next City Council has a responsibility to continue this legacy. New units should be considered in strategic locations, such as the old Macy's building, while also considering the impacts to neighborhoods. Investment in city infrastructure is also a key component of preserving our heritage. Many of our most iconic buildings and assets are publicly owned, such as the library, the Cabrillo Arts Pavilion, and our urban parks. We need to maintain them properly.
WM: I am a fourth-generation resident who values the history and character of our community. I was very proud to have my granddaughter represent our city and historic culture as the Spirit of Fiesta. I will work hard to direct commissions to preserve the character of our community in the historic architecture, and I will support our arts and cultural programs that bring our character to the forefront.
What would you do to revitalize State Street?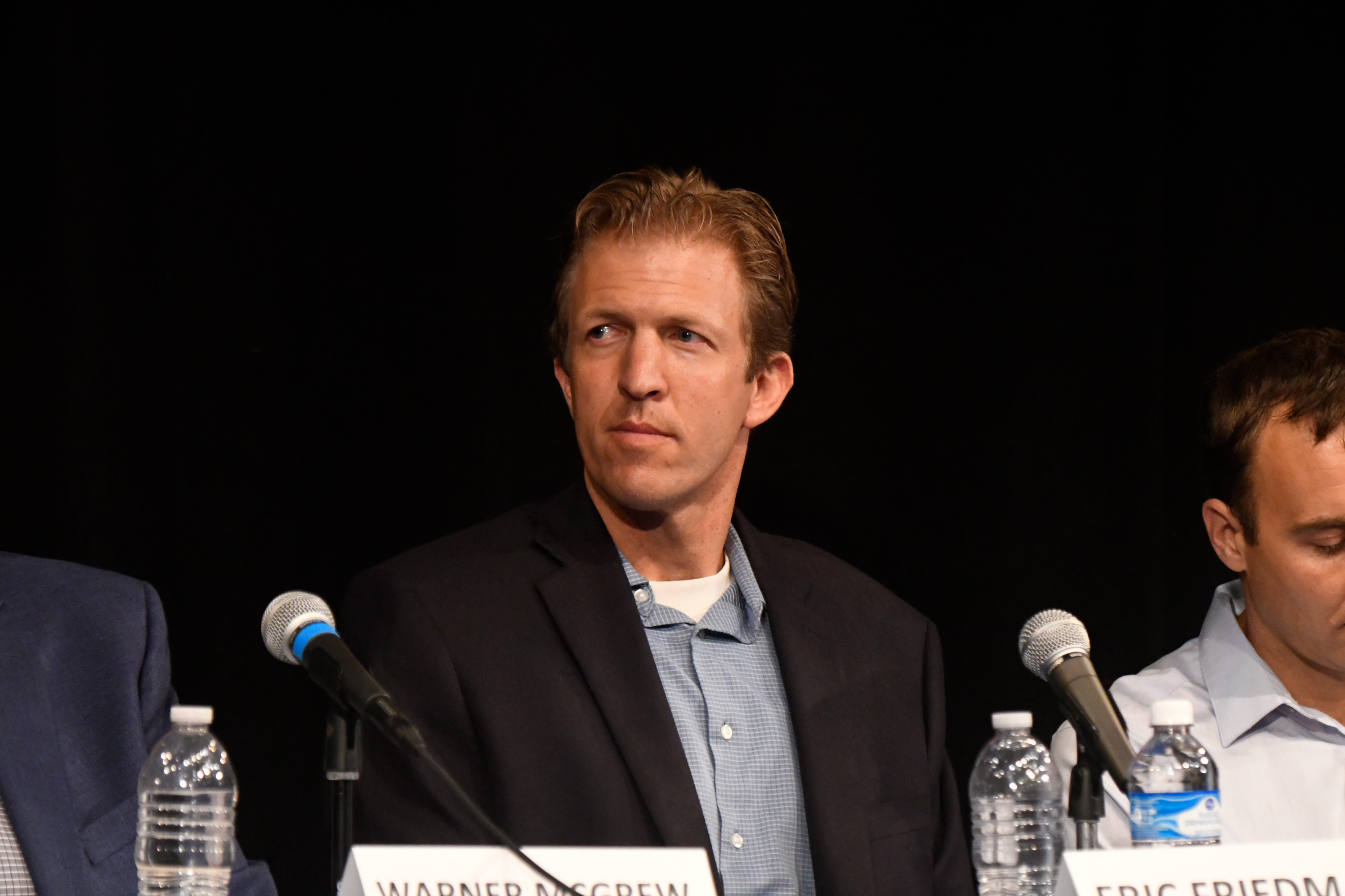 By Paul Wellman