Fifty years ago this month, I was embedded in Chicago's Lincoln Park. The 1968 Democratic Convention was convening 10 or so miles away, but I — a 23-year-old underground newspaper editor and futile permit negotiator — was more interested in birthing a peace, love, and chemistry counterculture than watching delegates dither over a war I thought unconscionable.
Each night, my fellow communards and I were swept away by a tidal wave of cursing cops. Over the week, I chronicled the exodus, checking out casualties at local hospitals. The exclamation point came when the police shot out my paper's windows while we worked on the next issue.
Recently, I thought my demonstration days were declining. But "business" is suddenly good. The Women's March. Separated families. Black Lives Matter. Parents and Friends of Gays and Lesbians. The Trump Years are a giant game of Chutes & Ladders, with decades of gains threatening to slip away.
Perhaps Convention Week can resonate as I try to get back to the future.
The Politics of Culture
In the 18 months before the convention, I went from being a graduate student to a social worker to an army reservist to a longish-haired demonstrator on the steps of the Pentagon to talking about a groovy, outrageous Festival of Life that would take place in one of the city's largest parks.
I was a "member" of the Youth International Party — the Yippies — one of a spectrum of protesting groups. Our anarchistic street theater challenged an in-all-senses straight culture through guerilla-theater acts such as throwing money off the balcony of the New York Stock Exchange. Yippie called out to hip-strip longhairs who ignored even New Left politics. "Abandon the Creeping Meatball!" Run Pigasus, an actual pig, for president! "Chicago" was to express the Politics of Ecstasy — a new society constructed on the ashes of the old. Those in power don't cede it voluntarily — if we couldn't topple them, we could make them laughable.
It may sound fragile, drug-addled, outrageous in 2018. But at our best, we engaged the power of the imagination. As the brilliant folk-protest singer cum Yippie Phil Ochs said back then, "A demonstration should turn you on, not off." Even as Donald Trump manipulates the power of spectacle, here's to pussy hats and Trump-baby balloons.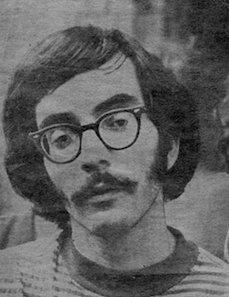 By Courtesy Photo