It's been a more than year since the Goleta City Council meeting that considered the gift from Ty Warner of the antique Barnsdall-Rio Grande gas station that sits on the western point of Hollister Avenue, a meeting that may have shaken the council's confidence in a key city official. The contract that had been drawn up to gift the property contained a poison pill that was not mentioned in the staff report, several councilmembers observed uneasily. In essence, the underlying property ownership document contains a covenant that is inherited by the next owner; it prevents the gas station owner from taking any actions against the Ellwood Onshore Facility.
The gas station in question at one time greeted all travelers arriving after a rough ride from Lompoc, according to Sentinel in Ellwood, a 1985 monograph by Gary Coombs and Phyllis Olsen that recounts the history of the building and the companies that built it. The station marked the entrance to the Ellwood oil fields — a joint project of Barnsdall Oil Company and Rio Grande Oil Company. The two had found oil, after some skirmishing between its engineers, at an estate once called Ellwood Terrace, and now called Sandpiper Golf Club, owned by Kate Den Bell, the eldest daughter of Nicholas Den whose rancho stretched from Fairview Avenue nearly to El Capitan.
Kate Den Bell had proclaimed at a 1920 family gathering that oil, which had been unsuccessfully searched for in nearby Las Armas Canyon and Coal Oil Point, was probably beneath her feet. But no one would be allowed to find out until after she was dead, she added, because the inheritance taxes would otherwise be astronomical. She was, of course, correct. The year after her death in 1927, a highly pressurized crude with little water or sulfur spurted out of a drill hole sunk not far from where she'd stood, Coombs and Olsen wrote.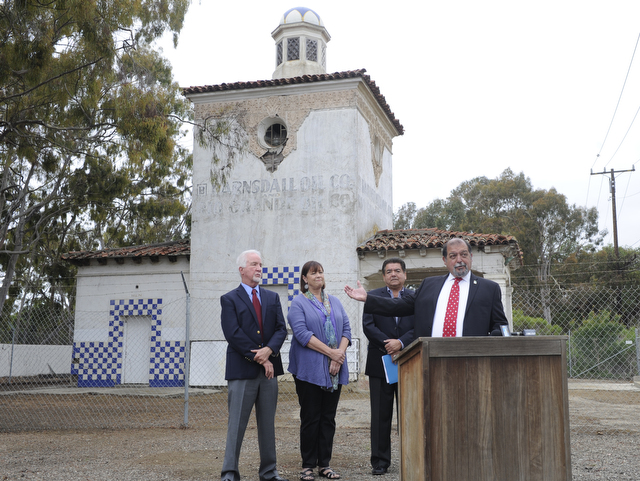 Paul Wellman/S.B. Independent