Quaint pastel stores line the main street of Los Olivos, a small wine town fit for a romantic comedy. During my first visit ever to this wine-country hub a few weeks, I stopped by three establishments to get unique tastes of the Santa Ynez Valley.
Link Love: The Doggy Door
Erin and Andrew Scherer own The Doggy Door, one of the few eating establishments in a town brimming with wine tasting rooms. Inside of a water tower that they've transformed into a trendy food stand, the Scherers are paving their own path by tapping into the alternative business of artisan hot dogs.
Although only open since April 2016, The Doggy Door is quickly becoming infamous for serving hot dogs "on steroids," as one local put it. Erin brings out the "Classic" hot dog for me: a juicy, steaming hot dog underneath a pile of onions, tomatoes, cheddar, and pickles with Lay's chips sprinkled on top. She also shares her personal favorite, the Pesto hot dog covered with Parmesan, arugula, and sour cream crunch chips, all drizzled with pesto aioli. Cue my stomach growling.
We head to Community Craft, the wine and beer shop that they own behind the hot dog stand, where you can order drinks to complement the beast of a hot dog. "We wanted to do something for when people are starting to get hungry after a day of drinking, but we wanted to make it more fun than just a normal hot dog," said Andrew, who also currently offers a Reuben hotdog, with sauerkraut and Russian dressing, and the Nacho, with black beans, Sriracha aioli, queso, and crunchy tortilla chips. "Also, there is no other food option for under $10, and all of our hot dogs are only $7."
Erin and Andrew independently moved to Los Olivos some years back and fell in love with the small town — and then each other. "Actually, the table right behind you is where we first met," said Erin with a smile. "It used to be a brewery, and I came in right after the longest hike ever looking awful, and Andrew said, 'Hi, I just moved here. You hike?'" The local sitting at the bar next to me teases Andrew: "Great pickup line, man." Andrew laughs and kisses Erin's hand replying, "Hey, it worked."
Indeed, it did: the hot dogs are the best I have ever tasted. Andrew suggests pairing the Reuben with a glass of Habit wine, or any of the hot dogs with their lighter beer on tap, the Silva Kolsch lager. Whatever you decide on, it'll lead to more Los Olivos trips in the future.
2446 Alamo Pintado Ave.; (805) 338-1403; doggydoordogs.com
Classic California: The Los Olivos Wine Merchant Café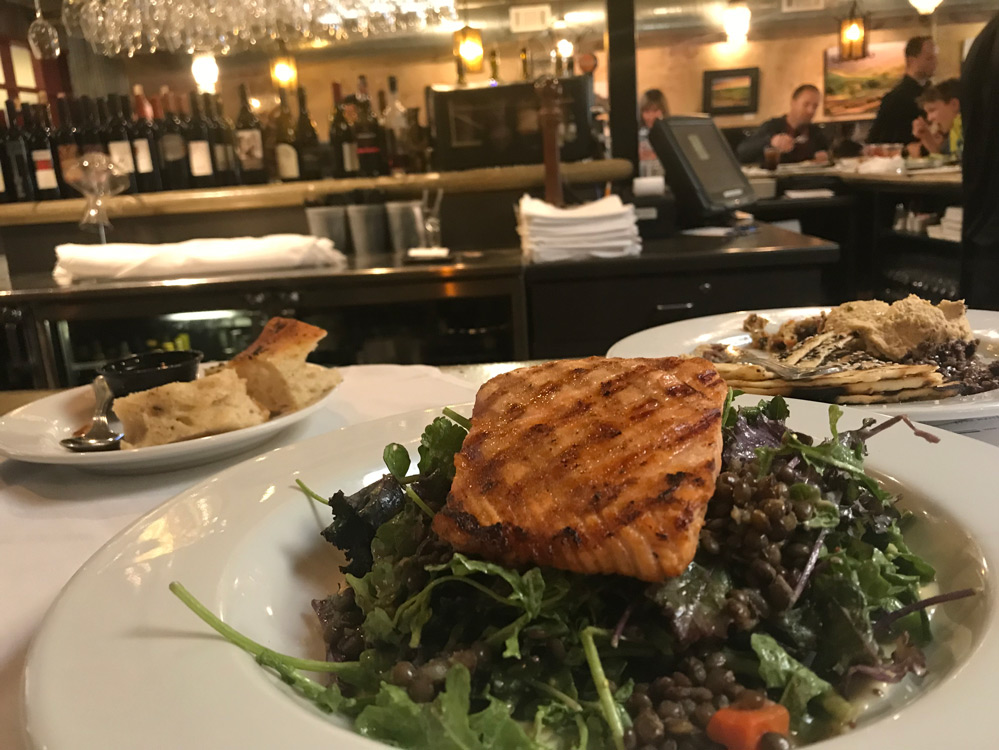 By Courtesy Photo