Jackson Stormo always stands tall — the San Marcos High senior's height is 6′9″ — and last week he stood extra tall as the Royals raced to the Channel League boys' basketball championship. The penultimate step was a 73-57 victory over Santa Barbara High before a sold-out crowd at the Thunderhut (aka Maury Halleck Gym), and then the Royals claimed an undisputed title by fending off Buena in Ventura, 65-64. "We have grown so much in our team dynamic," said Stormo, the centerpiece of an all-senior starting lineup. "It's really beautiful to be part of it."
San Marcos takes a 21-6 overall record into the CIF Division 2A playoffs this week after going 8-0 in the league. Three years ago, the same players who form a cohesive unit with Stormo — Nate Fay, David Frohling, Ryan Godges, and Stef Korfas — went 0-8 on the freshman team. "They improved so much," said their varsity coach, Landon Boucher. "They'd wake up at 6 a.m. to come to spring class. They'd play 40 games in the summer."
Along the way, they learned the art of sharing the ball. "Our freshman year, we were selfish," Godges said. "What's amazing about this team is that nobody cares about scoring." A case in point was a game against Ventura, when Stormo was held to five points. "You wouldn't have known it," Boucher said, "he was so excited with the win."
Stormo and Godges, a lethal sniper from three-point distance, are averaging more than 16 points a game, but any of the San Marcos starters is capable of putting up big numbers. In the league opener, a 77-58 win over defending champion Dos Pueblos, Frohling scored 27 points. "That game at DP was the key to the whole year," Stormo said. "They beat us twice last year. It absolutely drove me crazy."
The Royals also swept Santa Barbara for the first time in recent memory. Their experience made a difference against the Dons, who are loaded with young talent, including 6′8″ sophomore Bryce Warrecker and freshman guard Jasper Johnson.
A new San Marcos threat emerged in last week's game against the Dons. Junior forward Beau Allen scored 16 points on dazzling drives and a pair of three-pointers. The seniors welcomed his contribution. "He made some huge plays for us," said Stormo, who made sure his name was spelled correctly: "B-E-A-U, not B-O."
San Marcos, the No. 3–seeded team, was ready to take on West Ranch of Valencia in Wednesday's (Feb. 14) playoff opener, hoping to move on to the second round Friday.
SEÑORITAS: Alondra Jimenez and Cassandra Gordon, high-scoring seniors on the Santa Barbara High girls' team, look at their last days of playing basketball together as a precious gift. "My best memory is just being able to play with my teammates," Jimenez said. She twice had to come back from knee injuries — a tear of her left ACL that kept her out of her first year and a tear of her right ACL that forced her to miss almost all of her junior year.
Gordon said she'd remember "every time we played Ventura." Santa Barbara shared this year's Channel League championship with the Cougars after they split a pair of overtime thrillers, the Dons winning by a score of 51-48, Ventura by 58-56.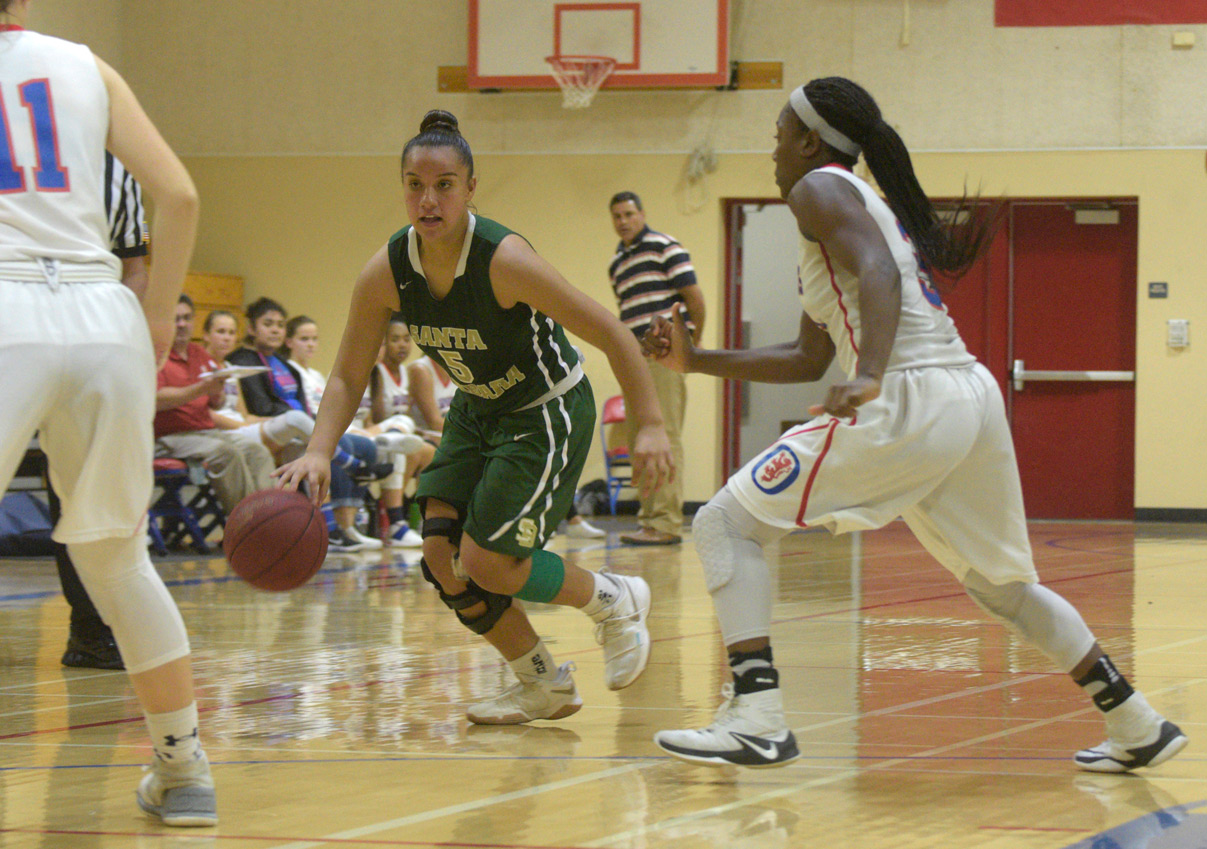 By Paul Wellman