There was a glimpse of the glory days of UCSB men's soccer last Thursday night: Chris Pontius slamming the ball into the goal at Harder Stadium in front of thousands of cheering fans. Pontius, who as a sophomore in 2006 played a key role on UCSB's national championship team, scored this goal to give the L.A. Galaxy a 2-1 lead over Fresno FC in a preseason professional match that the Galaxy eventually won, 3-1.
"It's nice to be back," said Pontius, who scored 29 goals in his Gaucho career and enters his 10th year as a pro with 45 goals in Major League Soccer (MLS). The Southern California native not only was back on his old college turf but also is back home for the season after spending nine years back east with D.C. United and the Philadelphia Union.
Ema Boateng, a third-year Galaxy forward who was a Gaucho in 2012, described Pontius as "an absolute professional. He never complains about anything. He works hard and is a great leader for us this year."
The Galaxy needs new leadership after falling to the bottom of the MLS standings last year. The club has brought in several new players and hired veteran coach Sigi Schmid to try to revitalize a team he led to the first of its five MLS championships in 2002.
In a preliminary game Thursday, the UCSB Gauchos defeated the Ventura County Fusion, 3-1. Coach Tim Vom Steeg viewed it as the first step in a long, steep road to the 2018 College Cup, the NCAA championship tournament that will take place at Harder Stadium in December.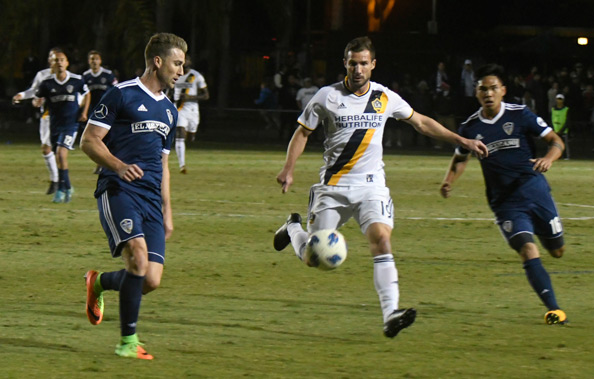 By Paul Wellman