The number of bodies removed from the crusting soup of the Montecito mudslide has now risen to 17, up from 15 earlier today. In response to the increased volumes, the Santa Barbara County Coroner has received assistance from the Los Angeles Coroner's office. No names of the deceased are being released yet pending family notification and body identification. The latter process began today.
The number of persons still missing is also 17. At a press conference Wednesday afternoon, Sheriff Bill Brown said it was merely coincidental that the two numbers happened to be identical and assured those present that those still reported missing were not stockpiled in the county morgue. The number of missing actually dropped on Wednesday, going from 24 at the beginning of the day to 17.
Brown lauded the assistance Santa Barbara first responders were receiving from Ventura, San Luis Obispo, and Los Angeles counties, noting that the National Guard had also chipped in with some heavy-duty all-terrain vehicles capable of navigating even the most viscous of environments. Even while praising the help these new vehicles offered, he acknowledged that some of the terrain was so forbidding that they could not pass.
A Coast Guard Jayhawk helicopter from San Diego rescues a Montecito family of five, including the mother, father, their newborn, seven-year-old son, three-year-old daughter, and two dogs.
Cottage Health CEO Ron Werft said the hospital has been forced to take exceptional measures to maintain staffing levels, flying 14 employees in from Ventura and transporting another 38 via boat service provided by Island Packers. Dr. Brett Wilson, medical director for the Cottage Emergency Department, stated Cottage had not received any additional patients as a result of the mudslides. He said 20 patients were checked in and 12 currently remain. Of those, he said four remained in critical condition.
Wilson surged those within earshot to look after those injured and traumatized by their experiences. "Be a listener," he suggested. "Let them tell their story." He also cautioned that the road ahead might not be simple or linear. "Keep an eye on them; after they get past the trauma, they may become disconnected."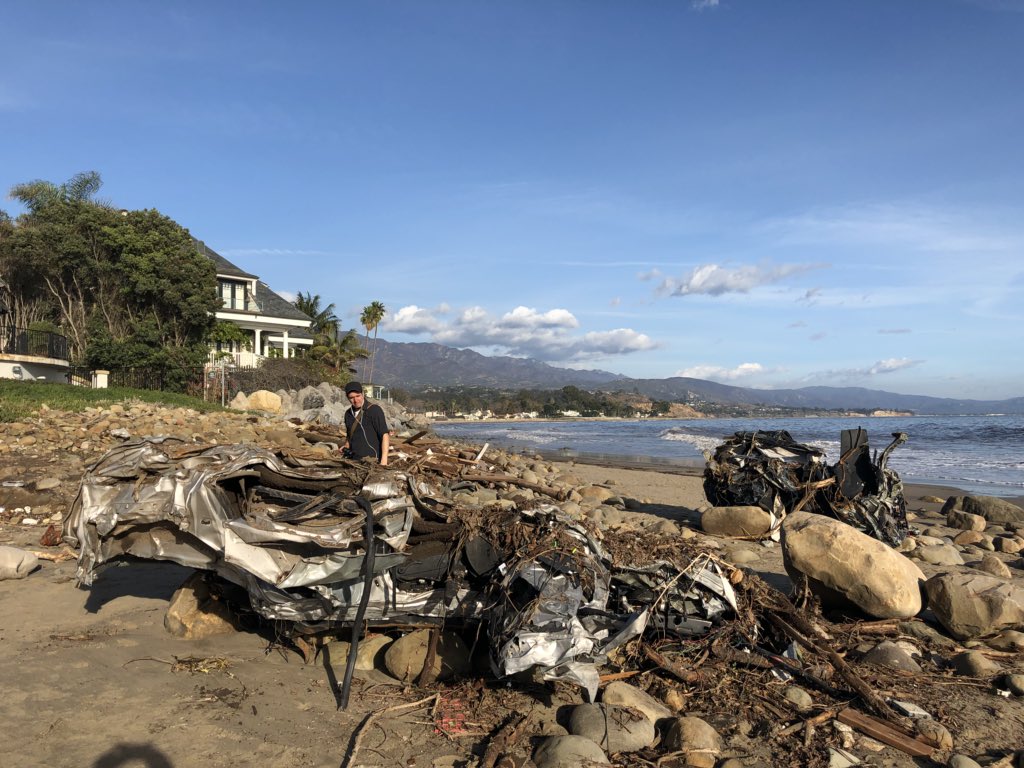 By Mike Eliason/ Santa Barbara Co Fire