My friend Joanne had a group of us over for girls' night last week at Gracewood Cottage, her charming ranch house in the hills above town. I was smitten with the vintage touches in her turn-of-the-century cottage, but I was just as struck by the notion of having a name for one's abode. It's de rigueur in manor houses and castles, but why not give every home a moniker? To add fuel to the fire, immediately after visiting Gracewood Cottage, the very next house I was invited to visit also had a title, and an allure to go with it.
El Caserio is a group of nine freestanding homes tucked in the center of a downtown block bordered by Garden, East Canon Perdido, Laguna, and East Carrillo streets. If you aren't looking for it, you'll walk right past. Even if you are looking for it, you've got to look closely. A rustic metal sign on the 300 block of East Canon Perdido marks the entrance, and a gravel road winds up a hill and past each home in El Caserio.
The houses are custom and therefore unique, and were built in the 1940s and '50s. Unit J is tucked in a corner at the top of the hill, just past the organic,co-op garden. This two-bedroom, two-bath home was built in the quintessential Spanish adobe style. A heavy wooden door with iron embellishments is set into an ivy-covered wall to both maintain privacy and welcome visitors in style.
The door opens onto a large brick courtyard with a fountain, citrus trees, and beautiful succulent plantings. There is enough space for outdoor dining and entertaining, and the ambiance is perfect for a fiesta gathering. In fact, it has the mood and character of Casa de la Guerra or the Presidio just down the street.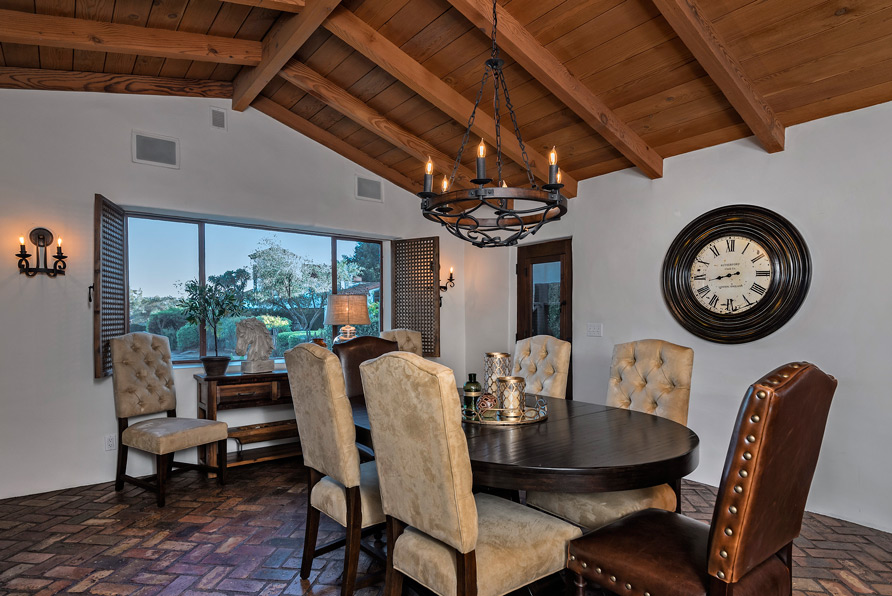 Thomas Ploch Productions