Just because you're roughing it on the trail doesn't mean your taste buds must suffer. That indulge-while-outdoors philosophy is celebrated in Dirty Gourmet: Food for Your Outdoor Adventures, a new cookbook by longtime friends and bloggers Mai-Yan Kwan, Aimee Trudeau, and Emily Nielson. They collectively answered a few of my questions via email in anticipation of their July 17 event at Telegraph Brewing Company.
You all come from pretty diverse backgrounds. How did you meet? And was camping at the core of that relationship from the beginning?
Besides existing family ties, camping was very much present in establishing our friendships. Aimee and Emily are cousins whose dads were mountaineering partners and brothers. They spent their childhoods camping together with our families between Las Vegas (where Emily lived) and Los Angeles (where Aimee lived). Aimee and Mai-Yan met on a camping trip in the Panamints after Mai-Yan moved to Los Angeles from Quebec, Canada. Finally, Emily met Mai-Yan at Aimee's wedding, which was a multiday campout at San Clemente State Park.
Aimee and Mai-Yan planned and executed a bike tour from Los Angeles up to Vancouver and across Canada to Montreal the summer of 2009. At the time they returned from camping and cycling all summer, Emily was just finishing living in the woods outside of Big Bear for three years. All three of us came together with a lot of outdoor cooking experience and started curating our recipe collection that became the Dirty Gourmet blog.
Did you start off doing more "traditional" foods while camping, like hot dogs and easy stuff? Or did you start off going big with more involved meals?
As kids, we ate a lot of standard "camp food," but things began to change by the time we were cooking for ourselves. We'd camped for so long that we couldn't bear to look at another packet of instant oatmeal or ramen.
Aimee and Mai-Yan used delicious end-of-day meals as motivators to get through long days cycling. They were both pretty excited about cooking at home beforehand and realized they could make the foods they loved outdoors by simplifying a few techniques or ingredients. Emily ate countless amounts of kid-friendly camp food as an outdoor science instructor, so she was happy to jump on board with developing more exciting outdoor recipes when the three girls came together to start Dirty Gourmet.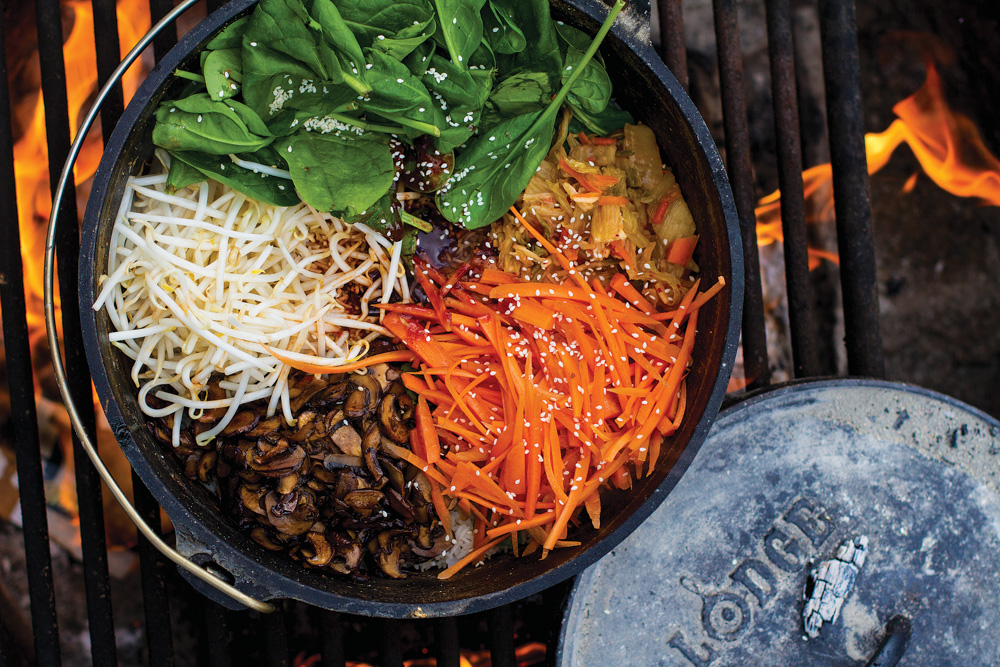 Dirty Gourmet