As much as we love a good, red-meat-stacked hamburger, we're not immune to the understanding that beef isn't the healthiest choice for everyday consumption, whether we're talking arteries or the environment. But until recently, veggie burgers pretty much sucked, being all grainy and stale and cracker-like, unable to char appropriately, bad at holding heat, texturally just wrong.
And then came the new wave of meat-free, plant-based burgers, namely the Impossible Burger, the Beyond Burger, and the Hungry Planet Burger. So we sent ourselves out into the Santa Barbara restaurant scene to sample all three from various establishments, and this is what we found. —Matt Kettmann
Impossible Burger @ Finney's
The Impossible Burger is "for meat eaters who want to eat an alternate protein," said Eric BosRau, executive chef at Finney's Crafthouse & Kitchen, of the plant-based patty that's causing a stir among discerning diners. The recently opened lower State Street restaurant is one of only two in the area that currently offers the Impossible Burger ​— ​Borrello's Pizza & Pastaria on Santa Claus Lane in Carpinteria is the other ​— ​although the "ground round" sandwich has been popping up on menus across the country since it became available in 2014.
I'm not a vegetarian, but I am a persnickety meat eater, consuming mostly fowl. And while I love the salty goodness of a hamburger, if I see pink or find gristle, my experience is ruined. So I'm the sort of omnivore to whom the Impossible Burger is geared.
The Impossible Foods team spent five years deconstructing what makes a hamburger a hamburger in order to genetically engineer a plant-based patty that offers the same eating experience as a traditional meat burger but without so much environmental impact. The newfangled burger's trick is an ingredient called heme, which the Impossible people say is "the basic building block of life on Earth, including plants, but is uniquely abundant in animal muscles' meat." Plant heme mimics the texture, density, and other properties of muscle heme, but there's also leghemoglobin, a legume-based protein that, like myoglobin in animals, carries oxygen throughout the living organism.
When Chef BosRau brought the freshly cooked, steaming-hot Impossible Burger to our table, it could have fooled me. It looked like a regular burger, even when cut in half. The clincher was that taste ​— ​honestly, I couldn't tell it wasn't a meat burger. The texture held up with each bite, the cheese and condiments proving lovely complements.
The only difference I could discern was that the Impossible Burger isn't as heavy or greasy as a beef burger. In the end, the Impossible Burger experience, for me, was equally as satisfying palate-wise as eating a meat patty, and much more pleasing to my eco-conscience.
Right now, the Impossible Burger is Finney's most popular offering, according to BosRau. Perhaps hard-core meat eaters will find nuanced dissimilarities that I did not, but I wouldn't bet on it. —Michelle Drown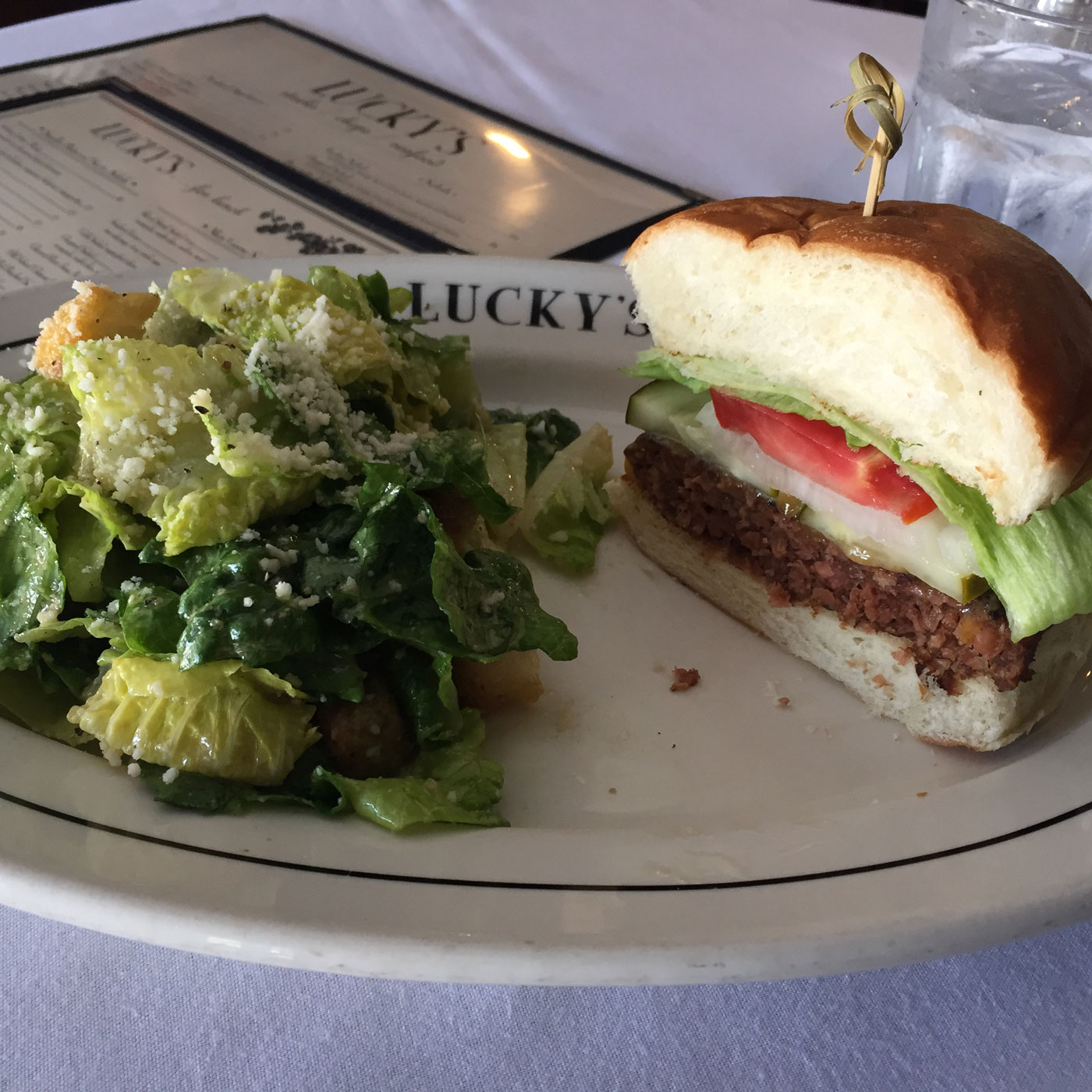 By Blanca Garcia