America's most recent shooting massacre, which left 14 Florida high school students and three faculty members dead, has once against thrown gun control into the familiar spotlight of intense national debate. President Donald Trump's pronouncement that arming teachers is the best way to stop school shooting rampages might be dominating national news, but in Santa Barbara, officials worry that the greatest threats to public safety lie with pending Congressional legislation and loopholes in California laws that allow licensed gun dealers to sell all the parts necessary to assemble a military-style assault weapon.
Santa Barbara District Attorney Joyce Dudley doesn't scare easily, but she was unnerved when she learned of a federal bill quietly winding its way through Congress that would make concealed-carry gun permits more like driver's licenses, transportable across state lines. The Concealed Carry Reciprocity Act — which coasted through the House of Representatives in December and has the full backing of the president — would allow any person with a permit to carry a hidden firearm in one state to carry their weapon in any other state.
"That is terrifying," Dudley said. "Whatever gun laws we're pushing in California go right out the door." Six weeks ago, Dudley joined Manhattan District Attorney Cyrus Vance alongside other members of Prosecutors Against Gun Violence (PAGV) — a nonpartisan coalition of DAs from all over the United States — to lobby senators against supporting the bill. "It would be incredibly unsafe for the community and for law enforcement officers," she said.
Representative Salud Carbajal was in the House minority when he voted against the Reciprocity Act, and he's been outspokenly critical of the National Rifle Association's (NRA) lobbying influence on his Republican colleagues. "NRA stands for No Republican Action," he declared. Carbajal called the bill a "shameful" piece of proposed legislation that would undermine California law by forcing the state to recognize lax concealed-carry-permit standards elsewhere, including in the 12 states that allow concealed carry without any permits whatsoever.
"As our students lead the nation to demand progress on commonsense gun-safety measures, this bill is an extremely dangerous step backward," Carbajal said. "I was horrified to watch my colleagues in the House pass this legislation." The NRA has made the bill its top legislative priority, and the Senate will take it up this spring.
Meanwhile, Santa Barbara Sheriff Bill Brown continues his efforts, which he began upon taking office in 2006, to keep the county's number of concealed-carry permits to a minimum. Under previous sheriffs, there may have been as many as 150 residents walking around with hidden guns. Today, only 82 people possess concealed-carry permits, with one application pending. Comparatively, more than 800 licenses are on the books in Ventura County and nearly 500 in San Luis Obispo County.
Brown vets each application personally, and the criterion for approval is strict but straightforward: A petitioner must prove the need to arm themselves based on their occupation or due to a credible threat to themselves or a family member. Among Santa Barbara's 82 carriers are judges, attorneys, gun dealers, firearm instructors, jewelers, private investigators, security contractors, and pilots.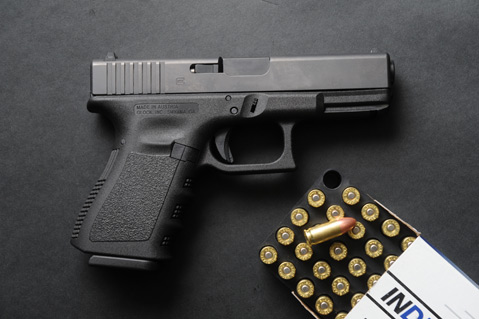 By Paul Wellman