Crews aboard the 180-foot barge DB Salta Verde set up shop just off Summerland early Monday to execute the final phase of a three-year, $1.4 million effort to properly seal the Becker Well, a long-abandoned oil pipe that has been seeping raw crude along one of the South Coast's most popular beaches. Using a crane, teams managed by Ventura-based engineering firm InterAct positioned an eight-foot-wide cofferdam around the Becker wellhead before clearing water, sand, and cobblestones to a depth of nearly 30 feet below the ocean floor, explained Steve Curran, an engineer with the California State Lands Commission. They then slipped a thick steel casing around the exposed length of relic pipe, filled it with concrete, and capped it with a welded plate. "Think of it like this: We have entombed it," Curran said.
Photo Gallery
Night Cap: Final Farewell to Leaky Becker Well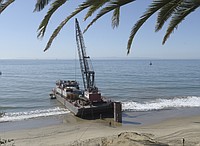 After three years, crews complete capping the leaky Becker Well at Summerland Beach.
"My comment is 'HURRAY!' in capital letters!" added Hillary Hauser, executive director of Heal the Ocean (HTO), a nonprofit that spearheaded what she called "a rabid letter-writing campaign" to drum up state funding for the project. HTO has also been a vocal proponent of Senate Bill 44, State Senator Hannah-Beth Jackson's bill signed into law last fall that dedicates $2 million annually to the cleanup of leaky wells and other coastal hazards. Curran said State Lands will begin aerial and underwater surveys this spring of several additional wells off Summerland that were improperly abandoned in the early 20th century.