"Take the time to peel a few layers / And you will find / True sadness," sings Seth Avett on the aptly named track "True Sadness," one of 12 on The Avett Brothers' eponymous 2016 album. It's a fitting lyric to describe the depth of personal introspection mined to bring True Sadness to life. Already known for the raw intimacy of their music, the brothers get bluntly (and beautifully) to the heart of matters — reflecting on such heady subjects as divorce, tragedy, and hope.
Recorded at producer Rick Rubin's Shangri-La studios in Malibu, the record debuted at number 3 on the Billboard charts, earned two Grammy nominations (Best Americana Album and Best American Roots Performance for "Ain't No Man"), and spawned a critically acclaimed documentary by Judd Apatow and Mike Bonfiglio called May It Last: A Portrait of the Avett Brothers.
I recently caught up over the phone with band member Bob Crawford (stand-up bass, backing vocals) to talk about True Sadness and May It Last.
True Sadness is introspective and even kind of melancholic lyrically but also often musically lively. You said a pretty accurate description as far as down, but lively. When True Sadness came out, somebody asked me at some point, "What does that mean, 'true sadness'?" And I actually had the opportunity to speak on a similar topic this past weekend. It's this idea to me that the human heart, human soul is so complex that we are somehow capable of feeling incredible joy and incredible sorrow at literally the same time. If you get to be any age in life you just realize pretty quickly that suffering is a major part of our existence on this planet. I guess you can never really reconcile ourselves to it, but there's probably a search for meaning in that. Being able to recognize the joy in the midst of the suffering … that's what True Sadness means to me.
There are some interesting musical departures going on the album — such as the hints of psychedelia on "May It Last." Can you speak to how that came about? The process for True Sadness was a little different than what we were used to. We recorded with Rick Rubin at his studio Shangri-La in Malibu. Me, Scott, and Seth, we recorded all the songs — just three of us — acoustically, like very old-school Avett Brothers. Upright bass, banjo, guitar, and vocals. Then we recorded everything with our band. So a seven-piece band playing all these songs. Then we took those versions of the songs and … a [sound] guy remixed them. He would imagine like techno, or this and that, or dance music, or just remix it. Then we took those remixes … and then we rerecorded them with our live instruments. So we got a blend in some of the songs.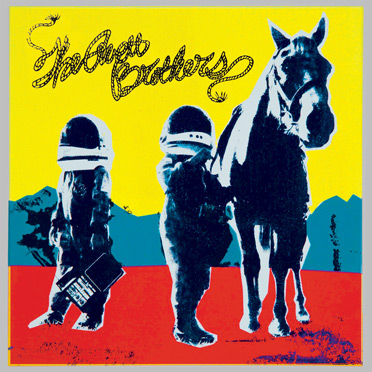 By Courtesy Photo